FAIRFIELD, IA. – October 29, 2018 – Green Building Supply, a Fairfield-based business specializing in eco-friendly building materials, announced today it has flipped the switch to become 100% solar powered. The company is among a handful of local businesses who have committed to going completely solar -- and the only one to research and install the entire system using their own in-house building experts.
According to Aaron Hirshberg, Chief Operating Officer of Green Building Supply, "We're thrilled to be producing 100% of our own energy. Sustainability is one of our founding principles. It is at the heart of everything we do. We're also a trusted resource for customers from all over the country for advice on the best products and approaches when it comes to creating a beautiful, healthy home. We decided to install the system ourselves, so we could learn from the experience and guide others interested in solar solutions of their own."
The company's solar array consists of 159 panels which total 44.98 kilowatts, generating 56 megawatts of clean energy every year at a savings of more than $8,000 annually.
Watch our Drone and Time-lapse Footage
In 2014, Green Building Supply installed a 24 kW system which produced 60% of its energy. After four years of having the system up and running, the company had zero problems with equipment and energy production matched estimates by 99%.
"We were happy with the results, but we knew we could do even more" explained Hirshberg. "That's when we set our sights on how we could achieve 100%. A lot has changed over the past four years; solar panels produce more energy and cost almost half as much. With improvements in racking design, we were able to add an additional 71 panels to our roof and reach our goal of being completely powered by the sun."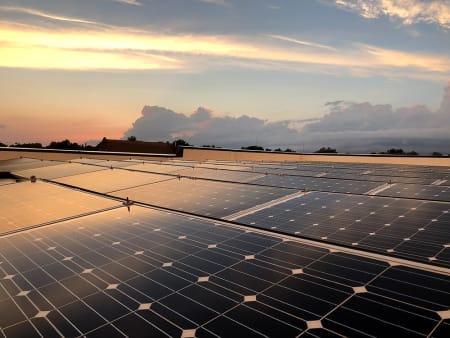 Additional benefits of the new solar system include:
Protection against rising energy costs; guaranteed rate for 30+ years
Offsets over a million pounds of coal
Equivalent to 49 Acres of U.S. forest
Supports the nation's economy with solar panels made in the USA
"Using renewable clean energy is the right thing to do for our planet, ourselves, and our future generations," said Hirshberg. "Our goal is to test and use sustainable solutions so we can expand into new offerings that support our customers in doing the same."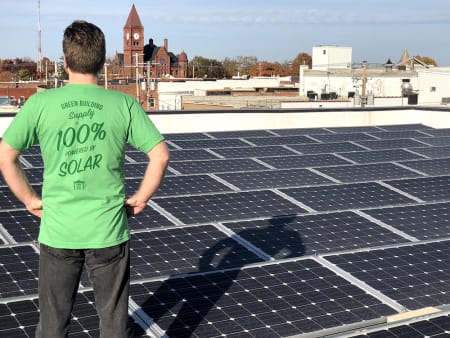 ---
About Green Building Supply
Green Building Supply helps homeowners, contractors, businesses and government agencies create beautiful, healthier homes. Using a team of trained advisors who personally test, sometimes for years, every high performance, eco-friendly product before offering them to health and environment-conscious clients. Since 1991, the company has worked on thousands of homes and buildings nationwide, specializing in non-toxic products from sustainably harvested hardwood, bamboo, and cork flooring to kitchen cabinets, recycled roofing, paints, finishes, caulks and sealants. For more information, visit the Green Building Supply website at www.GreenBuildingSupply.com.
Copyright © 2018 Joel Hirshberg All rights reserved.