Using Marmoleum for Countertops and Wainscotings
by
Joel Hirshberg
Marmoleum sheet goods can be used for many other surfaces besides flooring.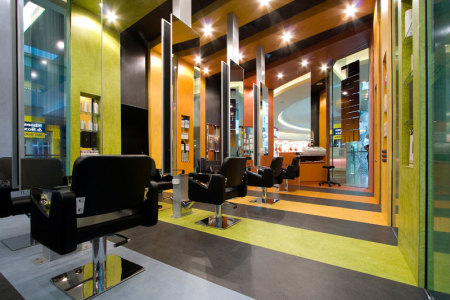 Marmoleum is a 100% natural linoleum that can be used on top of any flat surface such as a kitchen cabinet or table top. It is glued down and can be edged with wood or metal molding.
There are dozens of uses from business to education to personal. Marmoleum is easy to work with and has a smooth matte finish that's warm to the touch. It's easy to clean and repair, and is inexpensive compared to any other eco-countertop material.
Marmoleum countertops are simply made from Marmoleum sheeting material. This comes in rolls 6 1/2' wide x 100' long, cut to any length, and is 2.5 mm thick. Choose from dozens of styles and hundreds of colors. Like all Marmoleum products, it's very durable, anti-microbial, eco-friendly and water-resistant.
While we don't recommend cutting on this material with sharp knives, it does work well in eating areas. Marmoleum is a through-body product and repairs easily, almost like wood, if scratched our gouged. Once you see how tough this is, you'll want to use it for many other purposes such as wainscoting, desks, table tops and more. If you've visited a Taco Bell lately, you'll notice they use Marmoleum on their walls and some countertops.
Copyright © 2004 Joel Hirshberg All rights reserved.