Important Points about Receiving Your Shipment
by
Joel Hirshberg
Step 1: Scheduling the Shipment
A freight company will call you 24 hours ahead to schedule a delivery. Please make sure Green Building Supply has your correct phone number(s). Delivery will take place between Monday & Friday, deliveries do not happen on the weekend.
The freight company will estimate a large window of time for delivery, such as 10-2PM or 12-4PM or 9-5PM. Unless there is an emergency, you must be there when they arrive. Otherwise they will charge $150 to attempt another delivery.
You need to arrange helpers to offload as the drivers are only allowed to take product to the back of their truck.
Your shipment will arrive via a freight truck. Either 53' semi or short truck 26'.

Due to the length and weight of the truck, they will deliver only if they have easy access and egress. They will only deliver to the curbside.
For items 6' long or less a liftgate will be used to lower to the ground. Anything longer will not fit on a liftgate and will require removal off the back of the truck.

Shipments will not be delivered into your home or garage. Also, they will not deliver to your home if your home is on a cul de sac, or a newly created dirt road, or requires crossing an old bridge that won't support the truck's weight, or a narrow street, etc. If any of these apply to you, you must tell them when they call and you must make other arrangements. They can meet you on a side road, or in a large parking lot of a nearby store such as WalMart, etc. and you can load your shipment from their truck to your own truck.
Step 2. Receiving Your Shipment
Rest assured that we never ship out damaged product.
Below is an example of how we wrap boxes of flooring - with shrink wrap, edge protectors and banding on a palette.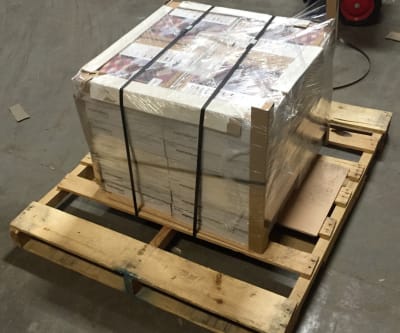 Unfortunately, we cannot monitor the shipping services between our warehouse and your receiving end. Pallets get broken, other boxes may fall onto our packages, and other factors that we have no control over. 9 times out of 10, these are minor problems, where the exterior of the shipping package may take a little damage, leaving the products inside pristine and perfect for installation. Even if the damage makes it into the material inside, often the damage is minor, and one or two pieces of flooring is compromised.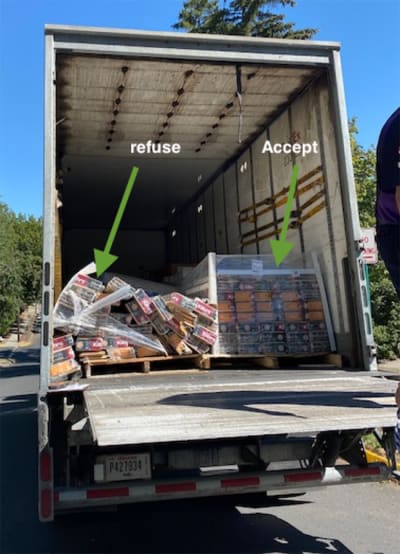 BEFORE SIGNING FOR THE DELIVERY YOU MUST CAREFULLY INSPECT boxes on all 4 sides while it sits on pallet
Make sure to count the number of boxes, if there are less than you ordered write Short on delivery receipt next to your signature.
Make sure the boxes are the correct brand and style that you ordered.
Once you sign for the boxes, they are yours, so make sure all is accounted for.
Record all types of damages, even small ones on drivers ticket. For example: "2 holes in side of box", or "packaging torn on 3 boxes", or "2 boxes crushed". Write Damaged on delivery receipt next to your signature.
The only words that will result in a replacement / claim being paid are Damaged or Short or Reject, so wording is CRITICAL here.
Be sure to keep a copy of the delivery receipt.

Take photos of the damaged boxes with your mobile phone.

IF 10% or more boxes are damaged, are short, or the wrong color, reject the entire shipment. Write REJECT next to the signature area on the delivery receipt, and have the delivery service cart it away.
IF less than 10% of the boxes are damaged, short, or the wrong color, accept the shipment. Write SHORT or DAMAGED on the delivery receipt.

Notify Green Building Supply immediately with the following information:

Order Number
Number of Boxes Damaged, Short, or Wrong Color
Copy of Signed Delivery Receipt with words Damaged, Short, or Reject
3-5 photos detailing the degree of damage to the boxes/product
E-mail all the above to

[email protected]

and/or call us at 800-405-0222 (9-5 M-F, 10-4 Sat)
If you accepted shipment:
DO NOT throw the damaged boxes away
DO open the damaged boxes to inspect the extent of the damage.
DO be patient; damaged products will be replaced if necessary.