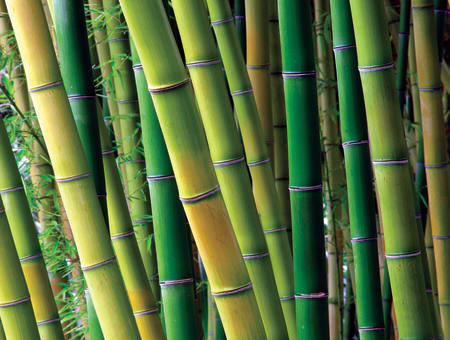 Bamboo floors are tough, but some are much tougher than others. Bamboo hardness varies according to species, maturation time, grain patterns and color. Moso is the hardest species. In addition to species, these factors affect performance:
five-seven years maturity is better than three-five years
vertical grain is harder than horizontal
strand woven is much harder than vertical or horizontal grains
natural color is harder than carbonized
2) Environmentally-friendly finishes and adhesives
Most manufacturers make claims that are not easy to verify. The best manufacturers use adhesives with no added urea formaldehyde and finishes that exceed European E0 standards for safety; and they can prove it. These finishes are water-based, solvent-free and do not off-gas toxic chemicals. They may cost slightly more, but they're better for your health. This may not be easy to determine by smelling a sample of bamboo, even if it's freshly sawn. You have to know your sources.
The chart below shows total formaldehyde, both urea and phenol.
Standards
Formaldehyde parts/million (ppm)
(e.g. .01 ppm = 1 part / 100 million)
US OSHA
0.75 ppm (US Dept. of Labor, Occupational Safety & Health Admin.)
US ANSI
0.30 ppm (American National Standards Institute)
German E I,
World Health Organization
US Floors bamboo
0.106 ppm
CARB Phase I
0.08 ppm (California Air Resource Board, implemented 1-09)
Japan JIS/JAS (F***)
0.098 ppm (Japanese Ministry of Land, Infrastructure, and Transport)
European E0
0.07 ppm
CARB Phase II
GreenGuard Environmental
Institute Certification
0.05 ppm (California Air Resource Board, implemented 1-10)
Japan JIS/JAS (F***)
0.04 ppm
Teragren 4' x 8' x 3/4"
plywood panels
0.03 ppm or less

Teragren Studio,
Craftsman II Flooring
0.03 ppm or less
EcoFusion, Strand Woven Bamboo
0.03 ppm or less
Teragren Synergy, + Portfolio Signature Naturals flooring
0.03 ppm or less
3) Milling and moisture control
Your bamboo floor will last a long time if it's properly installed and cared for. However, we've found from experience that not all bamboo floors perform equally. Some may split, warp or delaminate over time. Others may not fit well together from the beginning. Some of these problems are due to poor milling and others are due to excessive moisture in the ambient air or coming up from beneath the subfloor. Quality control of moisture at several points during and after manufacturing is critical to maintaining an industry standard of 6-9% moisture content. If a company can't guarantee moisture levels in this range in writing, we don't even consider them because it is far too important to the performance and longevity of the product.
Check this out
Below is a photo of a bamboo flooring sample we received from a large internet flooring company which had one of the lowest prices. When you look at the edge you can see obvious signs of de-lamination. And this was brand new!
What caused this problem? It could be due to improper drying, poor packaging, faulty glue application or dull milling equipment. Imagine what might happen if you installed this on your floor? The floor could buckle, twist or warp causing a noticeable and permanent bump in your floor.
The warranty might cover the piece of flooring, but you would have to rip it out at your own expense and try to find a matching piece to replace it. No small task. Your floor may never look the same. And this could happen to numerous pieces. So much for saving a few bucks.
4) Grading
There are varying grades of bamboo on the market, although they may not be labeled as such. This is due to: age at harvesting time (four-year-old bamboo is noticeably softer than six-year-old bamboo), culm (trunk) selection (the lower to the ground the stronger), manufacturing processes (some older equipment mills, glues and finishes products differently than newer state-of-the-art factories), certification (while not available in China it's available in the US and Europe for certain manufacturers that comply with those standards of manufacturing).
3) Durable finish
Bamboo manufacturers use much better finishes now than they did previously. However, some finishes, especially the inexpensive ones, are simply multiple coats of polyurethane. These tend to show scratches easily, especially in darker colors. The best practices now utilize a five-seven coat process of aluminum oxide with a super tough scratch-resistant ceramic top coat. The details of this process are proprietary and vary from manufacturer to manufacturer; but such practices are key to a good looking floor that maintains its finish over time and minimizes scratch marks.
It's difficult to tell which finish is the best just by looking at it. You have to know how to test the surfaces to determine which ones scratch easily and which ones don't. You have to test these for yourself to see the difference as there are no standardized tests used to certify scratch resistance.
6) Longevity
Some manufacturers are so confident of their new finish system they warrant their products for life against de-lamination and for 25-35 years against surface wear (residential). Commercial warranties are usually five-ten years.
When it comes to warranties, ask: 1) "Will the company that sold me the product be around that long?" and 2) "What good is a replacement warranty if it does not include the labor to replace it. If I have to pay for the cost of removal and installation it may be as much or more expensive than the floor itself?" Therefore, we don't recommend choosing a brand of bamboo based on its warranty. In general, seasoned homeowners rely on reputable companies that sell top-quality products. After all, your floors require a significant investment; inferior quality is not worth the risk.
Test to find the best. At Green Building Supply we personally test our products for at least a year to determine how they hold up under normal use and abuse. We don't rely on what the manufacturer says or even what their green label may say as critical information is often hidden and everyone's standards of excellence are different. We look for bamboo flooring products that are well made by reputable manufacturers who use quality raw materials, adhesives and milling equipment and who have a commitment to the environment and their employees. This requires a serious commitment of resources but we feel it's worth it.
As a potential customer, you don't have the time, energy or money to invest in testing every type of product. That's why we do it for you. We don't claim to test every product on the market, but the products that we do offer have passed our standards which exceed all US governmental standards and usually exceed European standards as well. Also, selling bamboo every day for 24 years teaches you many lessons, some learned the hard way, about vetting products. Selling poor quality products are, in the long term, not a good use of anyone's time or money. This is why we only sell the best.
This chart summarizes all the styles, colors and grains of bamboo flooring:
Style

Color

Grain

Edge

Width/Length/Thickness

Traditional Solid

Natural/Carbonized
+ many colors

Horizontal/Vertical

Tongue and Groove

3 3/4" x 36" or 72" x 5/8

Strand

Natural/Carbonized plus various dyes

Strand

Tongue and Groove

3 5/8" x 72" x 9/16

Engineered Plank

Natural/Carbonized
+ many colors

Horizontal/Vertical

Veneer Tongue and Groove

7 1/2" x 86 1/2"
Copyright © 2006-2012 Joel Hirshberg All rights reserved.
Green Building Supplies: bamboo flooring - countertops - cork flooring tiles - hardwood floor cleaners - kahrs - floor underlayment - non toxic cleaning products - wool carpet - linoleum flooring patterns