Product Samples
You can view a list of all of our products that have samples by clicking here.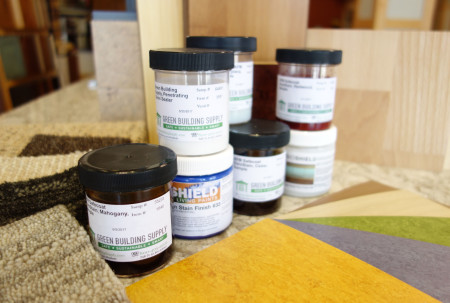 Shipping
We provide fast 2-3 day priority mail, and free shipping on all in stock samples.

Interested in Overnight Shipping? We now offer that for an additional fee. Otherwise they will ship priority mail for free

Don't see all the samples you ordered?
Flooring Samples
A sample is the only way to know what your floor is really going to look and feel like.
Flooring Sample Return and Refund Policy
Please Note: due to changing dye lots, we will only accept returns ordered up to 6 months previously.
Unfortunately, unless it's a Sustainable Sample Box (which does include free return shipping), we do not cover the cost of shipping samples back to Green Building Supply.

Please call 800.405.0222 or email [email protected] to begin the return or refund process.
Liquid Samples
You can only be certain what a color or sheen will look like when you see it applied to your surface in the environment where it will be used.
We recommend ordering samples of most products before purchasing.
Please note: not all products are available for sampling.
Also note: small sample sizes are difficult to match in lighter colors due to the tiny amounts of pigment used.

When sampling for odors, remember to conduct your test on a non-reactive material like glass or metal, and allow the product to fully dry or cure before testing. This can take up to 72 hours in some cases.

Liquid samples are not eligible for a refund unless they are damaged or defective.
What's Next?
If you like your sample(s) and wish to place an order or receive an estimate including shipping, please call 800.405.0222 and speak with a trained eco advisor, or email [email protected]. We can also help you with additional samples if you need them.