This product has been replaced with Blissfully Clean® all-purpose cleaner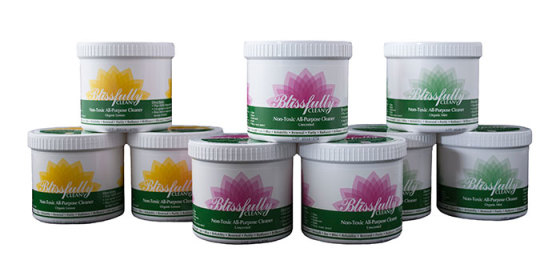 Blissfully Clean
Available in 3 Scents: Unscented, Organic Lemon, Organic Mint.
Includes 1 anti-microbial PerfectCLEAN cloth and 1 Super-aerated sponge
View the replacement Blissfully Clean here.
View Extra sponges here.
View PerfectCLEAN Cloths here.
Non-toxic, all-purpose cleaner for any hard finished surface
Universal Stone Cleaner is a hard-working and extremely effective product that polishes and protects while it cleans. Made by the Zielinsky family in Germany from all-natural ingredients, it's non-toxic and contains no abrasive acids; it will not harm plants, and it biodegrades in 14 days.
Universal Stone Cleaner removes stainless steel marks from porcelain sinks; makes short work of burned food on cooktops; cleans stainless steel pots, pans, sinks and appliances; cleans and polishes sterling silver, copper, windows, mirrors, countertops and grout lines; and much more, both indoors and outdoors, including cars and boats. It even makes jewelry and eyeglasses shine like new.
Although this cleaner is very powerful, its foam is both delicate enough for sterling silver and powerful enough for copper.
The 500g and 800g containers each come with one special sponge designed to minimize the amount of product used. The 4kg container comes with five special sponges. Additional Sponges for bathrooms, basement, garage, etc., may be purchased separately in the accessories tab.
This item description was written by Joel Hirshberg
Why We Like It
What doesn't this fabulous cleaner do? Every week we discover more things that it will clean quickly and effectively. We're amazed how easy it is to use and how safe it is on any finished surface. We donated 39 containers of old, dried-out, impotent cleaners, and have never regretted it.
One 500g container will last approximately six-eight months. One 800g container will last approximately eight-12 months. Also you never have to worry that it will smell or stain or irritate anyone or anything. But don't take our word for it; read the testimonials and watch the video above – then try it for yourself. We offer a money-back guarantee.
Features & benefits
Easy-to-use – just wipe a damp sponge across the stone, squeeze the sponge to make a foam and then clean away!
Long-lasting – each cleaning uses a minute amount; won't freeze, leak, evaporate or lose its effectiveness; unlimited shelf life
Economical – replaces almost every cleaner on your shelf, saving space, time and money
All-natural ingredients – soap flakes, green soap, vegetable oils, glycerin, polishing clay, citrus oil and faint citronella
Eco-friendly – will not harm plants; biodegrades in 14 days
Award-winner – Parent Tested, Parent Approved award (US and Canada)
Gentle – will not dry or damage your skin
Clinically tested and approved – Swiss Federal Environment Labs and The Allergy and Asthma Research center in Finland, EMAS (Environmental Media Management) (EU), EMPA (Switzerland)
Non-toxic, acid free – safe for everyone, including the chemically sensitive; ; learn how to test a non-toxic product for tolerance
Money-back guarantee – if you don't absolutely love this cleaner, we'll refund the item purchase price in full
Alert:
State Nexus Fee may apply
A state nexus fee will be applied to this item if drop shipped to the following states: . We're sorry for the inconvenience. Click here to read more about the state nexus fee.
Specs
Dimensions
Coverage (1 Coat)

as needed

Coverage2
Recommended # of Coats

as needed

Re-coat After

as needed

Drying Time

immediate

Square Feet / Box
Square Feet
Thickness or Height
"
Thickness
mm
Veneer Cut Thickness
Length
"
Length
mm
Width
"
Width
mm
Boxes / Pallet
Boxes
Square Feet / Pallet
Square Feet
Boards / Box
Boards
Pieces / Box
Pieces
Weight / Box
Pounds
Basics
Interior or Exterior

Interior, Exterior

Use On Material

Dirt, Spots, Stains

Use On
Location

Bathrooms: Dry, Bathrooms: Wet, Boats, Commercial Buildings, Garages, Hot Tubs / Saunas / Whirlpools / Bath Tubs, Kitchens, Laundry Rooms

Eco-replacement for

All Household Cleaners, Silver Cleaner & Polish

Chemically-sensitive safe

Yes

learn how to test a non-toxic product for tolerance
Test before use

Yes

, test on inconspicuous area
Freeze/Thaw Safe?
Warranty
Warranties
Residential Finish Wear
Residential Structural
Commercial Finish Wear
Commercial Structural
Certifications
Forest Stewardship Council (FSC)

FSC Content
FSC Chain-of-Custody #
LEED® Qualifications

LEED® Regional Materials Zip Code
Certifications

Allergy and Asthma Free - Finland
Features
Minimum Order
Old Name
Material Origin

Country of Manufacture

Recycled Content
Shelf Life

Use With These Products
Number of Colors
Colors
Carpet Pattern
Coordinating Border
Critical Radiant Flux
Extractable Matter
Face or Pile Weight
Fiber
General Flammability
Surface Flammability
GSA Classification
Line
Machine Guage
Moth Resistance
Pattern Repeat
Pile Height (High)
Pile Height (Low)
Primary Backing
Resistance to Insect Pests
Roll Length
'
Secondary Backing
Smoke Density
Static
Stitches Per Inch
Surface Texture, Construction, Style
Total Height
Total Weight
Traffic Rating
Tufts per Sq. In.
Tufts / Sq In
Yarn Construction
Bundles per Pallet
Bundles
Bundles per Square 6" Exposure
Bundles
Bundles per Square 7" Exposure
Bundles
Bundles per Square 7-1/2" Exposure
Bundles
Bundles per Square 8" Exposure
Bundles
Pounds per Bundle
Pounds
Pounds per Pallet
Pounds
Pounds per Roll
Pounds
Pounds per Square
Pounds
Pounds per Square 6" Exposure
Pounds
Pounds per Square 7" Exposure
Pounds
Pounds per Square 7-1/2" Exposure
Pounds
Pounds per Square 8" Exposure
Pounds
Lin Feet per Bundle
Lin Feet
Lin Feet per Pallet
Lin Feet
Rolls per Pallet
Rolls
Squares per Roll
Squares
Tiles per bundle
Tiles
Tiles per Lin Foot
Tiles
Finish Type

Base

Water-based

Ingredients

citronella, earth/polishing clay, glycerin, green soap, oil - citrus, oil - natural vegetable, soap flakes

VOC Content

0

Grams/Liter
Application Method

sponge

Application Temperature Range

Any temperature

Application Instructions

see pdf

Surface or Product Preparation
Appearance When Dry

clean

Cleans Up With

Water

Storage

Anywhere

Recycling or Disposal

Biodegradable

Adhesive
Bamboo Construction

Bathroom Installation
Color Change
Construction

Construction Description
Durability

Edge

Finish
Finish Sheen

Finish Contains Aluminum Oxide?
Floor Item Type
Floor Pattern
Floor Type

Grade Installation

Grading

Installation

Janka Hardness Rating
Joint System
Knots

Material

Number of Plys

-Plys
Composition
Radiant Heat

Range of Resistance
Risk in Dry Climates

Style

Shade (1 Light) - (7 Dark)

Strips / Plank

-Strips/Plank
Surface Texture

Surface Treatment

Surface Treatment Color
Tile Application

Touch Up Kit
Can be indoor?
Can be outdoor?
Direct Vent?
Easy-Linkable?
Energy Factor
Max Gallons Per Minute
- GPM
Max BTU's / Hour
- BTU's / Hour
Multi Control Capabilities
Temperature Range (with remote)
Life
Hrs
Input Wattage
W
Delivered Lumens
lm
Efficacy
lm/W
Color Temperature
K
Color Rendering Index (CRI)
Equivalent Wattage
W
Energy Savings