If you have carpeting in your home, you probably have no idea what you and your family have been walking on or breathing every day. Don't feel bad. Few people do - until now, thanks to a report by the Healthy Building Network (HBN) (Oct. 2017).
Through their excellent research you'll learn what you've always wanted to know and what few carpet manufacturers have wanted to tell you. This is, in part, because they didn't have to. Federal and state regulations do not restrict most of these chemicals, nor do the standards used to certify carpet sold in the U.S.
What HBN has uncovered are the sources of the strong chemical odors that we've all encountered when we walked into a newly carpeted room. The original study done by the Consumer Product Safety Commission identified at least 30 chemicals released by carpet. This new study by HBN has discovered some 44 hazardous chemicals in most synthetic carpet. Not every carpet contains all 44, of course, but each carpet has some of them and many have most of them. Some wool carpeting such as Nature's Carpet and EarthWeave brands, however, are made with 100% wool and contain few or none of these.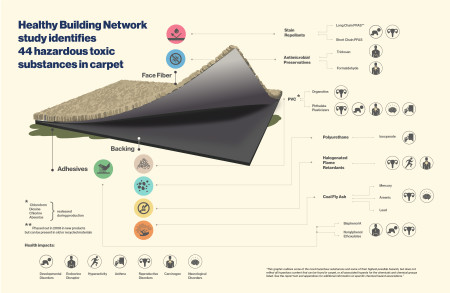 Modern carpeting is overwhelmingly made from synthetic-based fibers such as: nylon, polyester, polypropylene (olefin), recycled PET, and the newest fiber triexta (aka Smartstrand, Sorona and PTT—all of which are a modified versions of polyester). While all of these are derived from petroleum as their main ingredient, they are treated with additional chemicals that provide stain resistance and fire protection. They are further treated with more chemical fungicides and pesticides.The carpet fibers are then attached (tufted) into a backing made mainly of polypropylene with the help of synthetic rubber, polyurethane, polyvinyl chloride or ethylene vinyl acetate. Many of these synthetic chemicals have been found to out gas chemicals that are associated with symptoms such as eye, ear, nose and throat irritations; heachaches; skin irritation; shortness of breath or cough; and fatigue.
It is HBN's opinion, and has long been the opinion of Green Building Supply, that the potential environmental and human health impact of these toxins should have been fully disclosed and fully assessed long before ever entering the marketplace. When safer, fully recyclable, and fully accessed alternatives exist, there is no reason for carpet manufacturers to use toxic substances or for anyone to buy (from individuals to developers to retailers, cities and states), third parties to certify, or regulators to allow carpets that contain them on the market.
Consumers have a right to know what they are buying, and the attached report should be helpful in educating you about what you have already purchased or may purchase in the future. We believe that informed consumers who vote with their dollars are the best drivers of market change.
Below are the categories of toxic chemicals used in the carpet fibers and backings of most synthetic carpet sold today. (Below is a link to the full HBN article, which includes an in-depth explanation of all of the 44 chemicals included in these seven categories.)
Stain repellent treatments contain short-chain per and polyfluoroalkyl substances (PFAS). These are potent developmental and reproductive toxicants which can be inhaled or ingested throughout the lifecycle of production, use and disposal.
Antimicrobial preservatives protect plastic ingredients from biological degradation, including highly toxic triclosan, an endocrine disruptor, and formaldehyde, a known carcinogen. (California Prop 65)
Isocyanates are the main ingredient of polyurethane in the carpet backing, is a highly potent respiratory hazard that is not recyclable.
Polyvinyl chloride (PVC) is widely used as a binder in carpet tile and carpet backing which contains heavy metal stabilizers such as organotins and phthalate plasticizers. These are well-known toxicants to humans and aquatic life, and can produce cancer and developmental and reproductive harm. Scientists are finding alarming correlations between phthalates and asthma and human neurological diseases. Even though many manufacturers are phasing out phthalates, they still contain PVC whose production inherently relies on toxic inputs and produces toxic by-products such as chlorine, chloroform and highly carcinogenic dioxins, vinyl-chloride monomers and ozone-depleting chemicals like carbon tetrachloride.
Flame retardants are used in polyurethane and latex backings, as well as some specialty fibers. Some of these flame retardants used are halogenated, which means they contain chlorine or bromine. These are linked to hyperactivity, learning disabilities, reproductive harm and cancer. The common replacements are not much better as they contain organophosphates, which are linked to endocrine disruption and infertility. Flame retardants are emitted from carpet into dust and the air during use as well as from operations that recycle and dispose of carpet waste. Unfortunately, these chemicals persist within the environment and bioaccumulate up the food chain. They are also found in bonded carpet padding.
Fly ash is a byproduct of coal-fired power plants whichis widely used as filler in carpet tile. While this is considered "recycled content" and contributes to LEED points, it is nonetheless not healthy. Pollution control devices on power plants transfer mercury, a potential neurotoxicant, from air emissions into fly ash. Some carpet, by weight, is 40 percent fly ash.
Adhesives such as bisphenol A and nonylphenol ethoxylates, have both been found to be neurotoxicants that cause endocrine disruption.
Is there any hope for a safer carpet?
At Green Building Supply, your health and safety always have been and always will be our top priority. That's why we offer several brands of wool carpeting made with the purest natural ingredients. Click here for more info on our carpeting.
Industry wide, DuPont, among others, has begun replacing petroleum with corn glucose by up to 37%, Shaw has stopped using fly ash as a filler, and many manufacturers have phased out phthalates. Further, California Gov. Jerry Brown has signed into law a doubling of carpet recycling by 2020 which will increase pressure on the carpet industry to get serious about transforming. When we consider that some 57% of all flooring sold in the US is carpet and only 5% of it is recycled and much of it still contains some 44 hazardous chemicals, clearly there is much to be concerned about.
Read the full HBN article here
Questions, comments or suggestions can be sent to [email protected]
Copyright © 2019 Joel Hirshberg All rights reserved.