A natural process
Composting is the natural process of decomposition that can be helped along by providing ideal conditions. These conditions will help your kitchen/garden waste decompose quickly so you have a constant supply of compost for your garden. A balanced, healthy compost depends upon five things:
Oxygen
Temperature
Moisture
Surface area
Carbon/Nitrogen ratio
Oxygen
Oxygen is very important in composting because it fosters the growth of aerobic bacteria. Aerobic bacteria are bacteria that grow and live in the presence of oxygen and are very efficient in breaking down waste. To provide oxygen to your compost simply turn the drum twice per week using three complete turns. This will aerate all the compost inside the drum evenly.
Temperature
Optimal composting temperatures range between 70-100 F (21-38 C). If the compost becomes too cold (below 55 or 15C), decomposition will slow or stop completely. During the summertime or in hot climates, its best to keep the composter in the shade to make sure the compost does not get to hot inside the drum. Also,composting will slow or halt during cool winter months. Placing the unit in a sheltered, sunny location during the winter will lengthen the composting season in moderate climates.
Moisture
Keep your compost damp--not too dry and not too wet. Moisture allows the bacteria to travel around in the compost. If the compost is too dry, the bacteria cannot survive and decomposition will slow or cease. If it's too wet, it will limit the amount of oxygen that aerobic bacteria require to survive. Each time you add kitchen/garden waste, fill the container of water equal to the volume of waste and add it to your composter. This is sufficient to keep the compost moist without becoming too wet. In the event you add to much and it becomes sloppy inside, simply add some dry waste that will absorb the moisture such as leaves, grass or wood chips.
Another tip during heavy rains or snow, turn the drum so the input door is on the bottom of the drum to prevent any water or melting snow from collecting in the drum. When you do this, put a seedling tray between the legs of the composter to catch any composting tea that might drip out. This tea can be used immediately and makes a great liquid fertilizer.
Surface area
The more surface area, the faster the decomposition and the more usable compost for your garden. A jar full of small stones will have more surface area than one big rock in that same jar. In the same way, smaller pieces of waste will have greater surface area for the bacteria to work on than large chunks. They will break down much quicker. Therefore, for the fastest decomposition use smaller pieces of waste ideally 1" or less in size.
Carbon/Nitrogen ratio
Almost all organic material will compost. The ideal conditions require a 2:1 ratio of carbon rich (browns) to nitrogen rich greens (2 parts brown to 1 part green).
Examples of carbon rich (brown) material include:
Compost Magic
dried, shredded leaves
dried grass clippings
nut shells pencil shavings
coffee grounds
peat moss
potting soil
wood shavings
chopped hay or straw
shredded paper
sawdust
lint from the dryer
tea bags
shredded paper napkins
To chop brown material (like leaves), run the lawn mower over it a couple of times. Adding too much brown to the mix will slow the composting process.
Examples of nitrogen rich (green) waste include:
fruit and vege peelings
egg shells
old pasta jello
cooked rice
tossed salad
wooden toothpicks
fruit pits
flower bouquets
houseplant trimmings
garden trimmings
floor sweepings
aquarium plants
pet hair
old bread
Adding too much green waste will cause the compost to smell. Composting should not be a smelly process. If you do smell something unpleasant, it's easy to fix by adjusting the carbon/nitrogen balance or by turning the drum more frequently.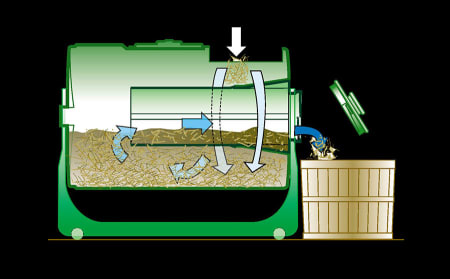 Other considerations
Bacteria is an important asset to your compost. To encourage good bacteria growth, we recommend adding one ounce of Compost Swift to one cup of water and sprinkle in the drum once per week. A small sample bottle of Compost Swift has been included with your garden composter. Another source of bacteria can come from existing compost or top soil.
When you first start composting, it takes approximately 6 weeks to reach sufficient numbers of bacteria for consistent decomposition to occur. Along with the bacteria you may notice other creatures such as insects, fungi or worms may be calling your garden composter home. These creatures are beneficial to your compost and chemicals should not be used to eradicate them. They will actually help your compost to break down much faster.
Eleven things not to compost
Ok, we've discussed the green and brown components and now we'll discuss the things that are neither green nor brown and the reasons why not.
Pet waste is not suited for compost if you wish to use your compost on food producing gardens
Fatty wastes will encapsulate the compost and slow composting times
Cedar shavings and Pine Needles will also slow down composting
Nuisance weeds should be avoided as they will propagate new weeds
Meat and Dairy products attract unwelcome animal visitors
Chemically treated wood products are not advised as they leach out unwanted chemicals into the compost
Bones should not be used unless they are ground up or put through a chipper first
Glossy paper with colored inks should be added to your recycling bin and not your compost pile
Black Walnut leaves contain Juglone that is toxic to other plants and is not good as a garden additive