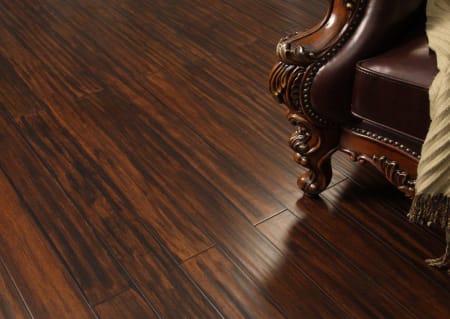 Many flooring retailers now claim they carry "green" flooring, however the definition of "green" has become so overused that it's impossible for the average consumer to differentiate between products. Some flooring only has recyclced content or is compliant with government standards; others are made with safe ingredients, third party certified, sustainably harvested and manufacturered in a facility that is diminishing its carbon footprint and pays fair wages. Unfortunately, there are many shades of green, and the more you understand all aspects of flooring — from harvesting and manufacturing to distribution and installation to recycling and disposal— the better you'll be able to distinguish between green and greenwashing.
Mistake #1: Assume a floor is green because the salesperson or website told you so
Many salespeople will tell you their products are green or CARB2 compliant but that's about all they tell you. It sounds good, but what does it really mean?
One of the primary factors that make any product green is its effect on indoor air quality (IAQ). What's considered an "acceptable" IAQ level varies greatly from country to country and from state to state. In the US, the highest, i.e. strictest IAQ levels, set the standard for the emissions of urea formaldehyde, a proven carcinogen. These rules are contained in CARB2 2014 codes (California Resource Board) Airborne Toxic Control Measure (ATCM). The federal government, under the EPA Toxic Substance Control Act (TSCA Title VI), has incorporated these standards (with a few exceptions) into their policy for three types of composite wood panels: hardwood plywood, particle board and medium density fiberboard (MDF). Compliance by manufacturers must be verified by a CARB-approved third-party certifier. The label on the box must include the name of the manufacturer, production date and compliance level (CARB Phase 2 or no added formaldehyde (NAF) or ultra low emission formaldehyde ULEF).

Note: CARB2 and EPA TSCA TItle VI are primarily concerned with formaldehyde emissions. They do not address other VOCS, SVOCS, de-regulated VOCs, cancer causing chemicals, pesticides, or other known or potentially hazardous chemicals. Therefore, when a retailer says they are CARB2 compliant, that's a good starting point, but certainly not enough to call it non-toxic and safe.
Also, the emission standard for urea formaldehyde in composite wood flooring governed by CARB2 and the EPA TSCA Title VI expressed in parts per million. Composite wood flooring (aka engineered flooring) often has a top layer made of hardwood, bamboo, cork, linoleum or vinyl but they also contains a middle layer made of different types of wood. CARB2 allows for different levels of formaldehyde emissions such as: is .05 parts per million for plywood,.09 ppm for particle board, .11 ppm for MDF, and.13 ppm for thin MDF.
TIP: Questions you need to ask the salesperson: What is level of urea formaldehyde emissions in the adhesives and finishes? Can you prove it? Are there any third party certifications? There should be documentation to verify the authenticity of any claims being made.
When we began to sell bamboo flooring many years ago, we were told that it was safe and had no off-gassing of toxic ingredients. "Non-toxic, non-toxic, Mr. Hirshberg", the manufacturer said. In 1999 there was no way to prove this right or wrong. For two years all was well; then very sensitive customers began complaining about off-gassing. The only way to find out the truth was to visit the factory in China and see how it was really made. Our distributor was traveling nearby so I asked him to visit the factory and stick his head in the 55-gallon glue drum and report back. When he returned, he said he had almost fainted; so I terminated my relationship with two suppliers and started looking for a company that could confirm in writing that their products were safe and third-party certified.
It took almost two years of research but we finally found one, Teragren (then Timbergrass), and later, Tesoro Woods (then EcoTimber). Both companies make products to the highest standards with either very little or zero formaldehyde; they use sustainable harvesting procedures, pay fair wages and recycle their waste efficiently. Both have goals to be net zero and they make advances yearly toward that end. We have few complaints with either company; and their products are some of the most durable on the market. Consumer Reports in their Aug 09 edition rated EcoTimber's strand woven bamboo as the #1 and Teragren's Synergy bamboo #2 in the US.
Insist on .01 ppm or lower formaldehyde. Be sure to smell a sample before you buy it, and smell it again when the product arrives. The less formaldehyde that off-gasses, the safer the flooring will be for you and your family. But there is much more to green flooring as this primer will uncover.
Mistake #2: Assume a floor is sustainably harvested because it's certified
Sustainably harvested wood, bamboo and cork products are now being certified through several organizations, the best of which is the Forest Stewardship Council (FSC). FSC is the only certification system that enjoys the support of environmental groups worldwide. Compliance with FSC standards ensures:
no clear cutting of forests
selective harvesting of old growth trees
fair wages for workers
energy efficient manufacturing and re-use or recycling of waste
chain of custody (COC) guarantees tracking of wood from the forest all the way down to the retailer
Why is FSC certification important? Because without it, you don't know what you're really buying. It's estimated that more than 50% of all imported lumber is illegally logged, i.e. destroying forests through clear cutting and removing old growth trees. By insisting on FSC certification, you'll make a pro-environmental choice that encourages loggers through responsible forestry practices.
The FSC logo has become the gold standard for the US Green Building Council's LEED (Leadership in Energy and Environmental Design) projects because its environmental, economic and social principles are enforced worldwide and because it has established a reliable network of independent certification. As such, the FSC logo is an important indicator of sustainably harvested flooring products. 100% FSC means the entire floor is certified. FSC Mixed Sources means that part of the floor (usually the top of the plank) is made of certified wood. Some companies are fooling customers by using FSC for the bottom or middle layer and using non-FSC for the top layer.
TIP: Unfortunately, the FSC logo is being abused by companies that want customers to think ALL their products are certified — when, in fact, only one or a few may be certified. This is "greenwashing". So, when you wish to buy an FSC product, the FSC trademarked logo must appear on the actual box you buy and it must appear on the line item of the receipt with the COC# (Chain of Custody Number) of the vendor or manufacturer. Don't be fooled; just because a manufacturer says it is FSC certified does not mean all of its products are equally certified. The FSC has more information about COCs.
Mistake #3: Forget to consider all the costs involved
There are five main categories of floors and there may be more than one right floor for your application. Before you start shopping, pay careful attention to the individual costs associated with each category as it will make a huge difference in the final outcome. Just because a floor cost $2.50 doesn't mean the final cost will be $2.50.
Category Species Installation application Avg. Price/SF Installation/SF (may differ in your city) Subfloor requirements
Solid wood- unfinished or prefinished Hardwoods, Softwoods, Exotics Nail down, glue down, above grade $2.50--$12 $2.50-$3.00 prefin $3.00-$4.00 unfin Add $0.70-$0.90 for adhesives Perfectly flat, patch or add plywood underlayment (+$1-$2/SF)
Engineered prefinished Hardwoods, Exotics etc. Glue down, floating, above or below grade $3.00 to $9.00 $1.75 - $2.00 If > 3/16 must patch or sand, otherwise ok. 1/8" underlayment pad (+$0.50-$0.75SF)
Tile Ceramic, Stone, Porcelain, Linoleum, Thinset, mastic, floating, above or below grade $1.50 to $10 $3.50 - $8.00 Perfectly flat, patch or add plywood underlayment (+$1-$2/SF)
Sheet Linoleum, PVC-free Mastic, above or below grade $3 to $5 $1.00 to $2.50 Perfectly flat, patch or add plywood underlayment (+$1-$2/SF)
Carpet, wall to wall and tile Wool, nylon, etc. Mastic, tack strip or float, above or below grade $2 to $10 $0.50 to $1.00 Can tolerate widest range of bumps and dips. Padding + $0.40-$1.00
But there is more to this question than just installation. Maintenance and refinishing are equally important to the overall long-term cost, as is final disposal of the product; these points are covered in point #7.
1) SOLID WOOD: made from almost every variety of hardwoods such as Maple, Oak, Hickory, Beech, Ash and Cherry to softwoods such as Birch, Walnut, Pine and Fir, and to Exotics like Brazilian Cherry, Merbau, Rosewood, Mesquite and Santos Mahogany. Hardness is indicated by the Janka Rating System which measures the force required to drive a .444 inch steel ball into the wood. Here are some examples:
WOOD FLOORING SPECIES JANKA HARDNESS RATING
Brazilian Walnut/Ipe 3684
Brazilian Teak/Cumaru 3540
Bamboo Strand Woven (EcoTimber) 3000
Mesquite 2345
Merbau 1925
Rosewood 1780
Bamboo solid (Teragren) 1700
Hard Maple 1450
Natural Bamboo (Most species) 1380
Ash 1320
Red Oak 1290
Carbonized Bamboo (most species) 1180
Black Walnut 1010
Eastern White Pine 380
Solid flooring is either jobsite sanded and finished or prefinished at the factory; it is usually nailed or glued down to a wood subfloor. The three main types of solid flooring are strip, plank and parquet which have varying thicknesses, widths and designs. Solid wood almost always has a tongue and groove edge detail. This type of flooring can be re-sanded and refinished several times depending upon the thickness. Look for 100% FSC certified, formaldehyde free and zero VOC finishes.
2) ENGINEERED: consists of multiple layers of real wood, cork or linoleum on the surface and real wood or fiberboard underneath. These planks click together or can be glued side to side. They may also be nailed down, glued down over a wood subfloor or floated over the subfloor with an underlayment.
The engineered wood can be re-sanded and refinished 1-2 times. Cork and linoleum can be refinished but not re-sanded. If there's a high density core (HDF) make sure it contains low or no formaldehyde.
Look for 100% FSC certified, formaldehyde free adhesives and zero VOC finishes. These should not be confused with laminate flooring which is a plastic laminate veneer over a high density fiberboard (HDF). There is no real solid wood in a plastic laminate; it cannot be re-sanded. Also, plastic laminate may contain formaldehyde in the HDF core.
TIP: Special underlayment for radiant heated floors have very low R-values so heat is not blocked and goes right through. These are made of synthetic latex rubber and don't dry out, crumble or crush, and they last for a very long time. See SCI Invincible underlayment.
Adhesives for glue down floors are a big topic which requires special consideration. Give it full attention because improper application can ruin a beautiful floor. Products like Bostik's Best have become industry standards because they perform well; but there are now alternatives such as EcoTimber's Healthy Bond MS which is zero VOC and isocyanine free.
3) TILE: cork, linoleum, ceramic, porcelain, stone and carpet tile all can be of either virgin or recycled materials, and are usually glued down with an adhesive or a thin set mortar. Look for Allergy Free and green certifications along with non-toxic adhesives and sealers.
4) SHEET GOODS: linoleum or carpeting come in large rolls and are usually glued down. Carpeting, however, can also be applied with a tack strip around the perimeter of the room.
Buyers Checklist
Here are some key questions you need to ask yourself BEFORE you even think of shopping for a floor. Answering these will help determine appropriate choices. This is a formidable task, we admit, but if you want to do it right, green and within budget, there's no alternative.
a. Is the subfloor level or not? (subfloor: the surface underneath your new floor.) It's usually either made of concrete or plywood, or in some cases wooden planks. It may be covered by vinyl, tile or solid wood. In most older homes subfloors are rarely level. If not level, how much work needs to be done? Nail down and glue down floors require almost perfect subfloors, while floating floors require less perfection.
TIP: Put a long straight piece of metal or wood on the floor and look to see how much of a gap appears underneath it. For floating floors, variations of up to 3/16 of an inch over an eight foot length are generally allowed. If more than that, you'll have to fill the dips or sand the bumps; this can be a serious and expensive task and usually requires a professional. Always read the installation instructions provided by the manufacturer to determine the tolerances specific to your floor.
b. What makes up the subfloor? Flooring manufacturers may give you a choice for how to apply their flooring depending upon your subfloor. Once you remove your existing floor and get down to the subfloor you'll find concrete, plywood, oriented strand board (OSB) or solid wood slats. If concrete, you can glue or float the floor over the top. (NOTE: this may not apply if the subfloor is lightweight concrete, sometimes referred to as gypcrete).
If it's a wood subfloor, you can glue, nail or float your floor over it. In some cases, you may not wish to remove your existing floor because it's too difficult or expensive. In these cases you may wish to float a floor right over the old floor.
TIP: Remember to consider the clearance under the doors—they may have to be cut down if the clearance is too low. If you have a layer of old hardwood, the greenest and least expensive decision may be to refinish it rather than replace it. Also, refer to Mistake #7 regarding adhesives.
c. Is the subfloor dry or damp? If water is seeping in through cracks in your walls or floors you may need to excavate outside your home, divert the downspouts away from the home and/or apply a sealer to the wall or floor. Damp basements are typical in many parts of the US. Most manufacturers' warranties prohibit solid wood floors below grade, while certain floating floors are sometimes acceptable. Moisture barriers are almost always required over concrete, usually in the form of 6 mm polyethylene plastic. Specialty sealers are also available but most require professional installation.
TIP: Moisture meters or calcium chloride tests are very useful in determining moisture content. If your contractor does not have one, they're available online or sometimes they can be rented.
d. Do you have radiant heat? If so, you'll need a special type of floating floor and underlayment. While there are some situations where you can use a solid wood floor, it usually requires a greater effort and expense. Always ask if the floor is warranted for radiant heat and make sure it says so in the warranty. Most are not, and those that are warranted may only allow hydronic heat tubes and not electric heat coils.
TIP: Make sure the underlayment is non-toxic and has a very low R-value so it does not block the heat coming through. See mistake #7 for more info.
e. Do you have kids and/or pets? Kitchens, bathrooms, bedrooms and rec rooms may require different types of flooring, especially if you have young children or large dogs. Harder floors generally last longer.
TIP: Ask how the floor rates on the Janka hardness ratings scale. Higher numbers are better (see hardness chart above).
URINE: If your pet has problems controlling urine, consider a ceramic tile floor or linoleum sheet product. Most wood, bamboo, cork or carpet do not do well when exposed to acidic pet urine.
f. Who's going to install the floor? If you wish to tackle it yourself, do you have the skills and tools, and are you willing to learn? If not, do you have the money to hire it out? Sanding and coating is about $3/SF, nailing down a pre-finished floor is about $2.50-$2.75/SF, installing a floating floor is about $1.75/SF. (Your city may be different; also floor prep and moving furniture can add to this cost). You can save big by doing it yourself, but how important is a perfect job that is warranted by a professional? Everything has a learning curve, so be prepared to spend some time to get educated.
TIP: Many companies have educational DVD's; YouTube has videos as well.
g. What's your budget? Along with the cost of the flooring and delivery, does it include the cost of installation, floor prep, tools, sealers and a 5-10% contingency for waste plus an extra box for repairs in the future?
Below are the incidental real costs no one wants to think about; these estimates can vary widely based upon the quantity of flooring, but they must be considered:
taking product off the truck and bringing into your home or office ($50-$200)
heat or AC when no one is yet living in the home during storage, acclimation and/or installation ($100-$200)
subfloor leveling, either sanding or patching ($200-$500++)
subfloor clean-up ($30-$50)
sealing concrete subfloors/walls ($250-$400)
removing baseboards and/or existing flooring ($100-$400++)
removing furniture ($$)
costs for loading and taking old flooring to the dump ($150-$250++)
damages to other parts of the home during installation ($$)
clean-up of adhesives, sawdust, plastic coverings, etc. ($50-$75)
floor protection after installation of flooring; we recommend 1/8" Luan sheets in high traffic areas and not construction paper; this is a must ($200-$300++)
floor-protectors for your furniture, beds, etc. ($$)
TIP: As a general rule of thumb, most incidentals run 20-30% of the hard cost of the flooring.
h. What's your deadline for installation? Make sure you allow time for transportation of goods, acclimation (none to 2 weeks, depending upon the product), subfloor preparation time, clean up and contractor schedules; then add 25% to the total. Like all other projects it usually takes longer than you anticipate. If you order the wrong product or quantity, this could also add another week to your job.
TIP: If there's a shipping or warehouse mess up, the retailer won't pay for your contractor's time. Therefore, always plan WAY in advance and never schedule a contractor until you have a firm date of delivery and a tracking number.
i. Does anyone have chemical sensitivities or allergies? If so, be sure the products are urea formaldehyde free (or as close as possible) AND the person using the room has tested a sample beforehand.
TIP: Many of our customers test products by putting them into a hot car and waiting outside a few hours. When they go back inside the car, the heat has usually caused some off-gassing to occur and any toxic ingredients are more readily detectable in a small space. MSDS: Reading the Material Safety Data Sheet (MSDS) is not enough because manufacturers don't always divulge proprietary ingredients or toxic chemicals that amount to less than 1% of the total volume. Manufacturers are only required to disclose "known" hazards of which only 20% have ever been tested for human health. This means 80% of all chemicals are "unknown" as far as their impact on humans are concerned, and the government has a "don't ask, don't tell" approach to these chemicals.
ADHESIVE: Also, if mastic is used to adhere the flooring, be sure it's zero VOC and isocyanine free. If refinishing a floor, there are many new choices which are safer than old solvent based products. It's not enough to be "water-based" as most still have solvents that off-gas. New non-toxic polyurethanes are now available as well as traditional oil and wax sealers. Both are DIY which can save big money ($3/SF) but you must educate yourself and do some testing.
Mistake #4: Try to do it yourself without the knowledge or the tools
When to use a professional and when to do it yourself is a tough question for most people. In general, if you're not handy with tools, have never worked with wood or you hate learning curves, you may not wish to try it. This is especially true if you have to rip up or level an existing floor. Unless you want to buy some new expensive tools and wish to take the time (read — weeks) to learn a new skill we recommend that you just let a professional do it.
On the other hand, there are many DIY products and finishes designed for educated humans that are relatively easy, inexpensive to use and are fun. These are floating floors that click together or are glued side to side, or tiles that are glued down. Even with these products there's a learning curve and often new tools are required. There may also be some challenging situations that are far beyond your capability like leveling a floor, undercutting door jambs and trimming doors to size.
But, if you want or need to save big (we're talking thousands of dollars here) and love the adventure and thrill of doing things yourself, go for it! The worst thing that happens is that you wreck a few boards and have to invite your contractor friend over for dinner to help you out. It's still worth a try. He/she may even teach you some tricks that will enable you to complete the job, and if you're really nice, lend you some tools (but don't ask for them as these are sacred).
TIP: Where can you find a reliable installer? It's not easy; try your local Chamber of Commerce, health food store bulletin board or contractor websites. Be sure to ask for references and to visit the homes of those your contractor claims he built or remodeled.
Mistake #5: Assume all green floors are equal
Another mistake is generalizing. Many people tend to put every bamboo or cork floor into a pigeonhole and assume each is the same. Nothing could be further from the truth. Like any product (or person for that matter) that you get to know well, there are huge differences once you know where to look and what questions to ask. Just a quick glance at the variety in prices for bamboo tells you that there must be some reasons for this — and there are quite a few.
Let's look at some typical criteria used to evaluate bamboo flooring. These affect the quality, longevity and overall price:
harvest at maturity (5 ½ to 6 years; most are less)
harvest the right species (Moso is the best; there are 1500 others, not what the pandas eat)
hardness rating (1100 to 3000 on the Janka scale; higher the better)
finish (3-9 coats of aluminum oxide plus scratch coats; the number of coats is not always indicative of the scratch resistance)
VOC content overall (from zero to .5ppm; less is better)
formaldehyde content of the adhesive (from zero to .05; CARB2 and EPA standard is .05ppm. European standard is .01, less is better)
moisture content (5-8% is acceptable; above this can cause serious problems)
warranty (from 20 to 27 years; more is better)
certifications (from FSC to Greenguard + many others; useful but requires much understanding about how each organization rates products)
price (from $1.50/SF to $7.99/SF; you get what you pay for)
Based on our own testing, EcoTimber strand bamboo products surpass all others in most, but not all, categories mentioned above. However, the retail advertised price of $5.50 is somewhere in the middle. While retail prices generally reflect market demand or how badly a retailer wants to get rid of a product, overall you do get what you pay for.
You've probably read on the web about bamboo products that scratch, stain, dent or have some formaldehyde, but cost less. Unfortunately, bamboo that performs poorly is prevalent in the market and gives the entire bamboo industry a bad rap. Not all bamboo is equal. How can you separate the wheat from the chaff? You have to do your homework in order to know the inside story. Compare the real numbers of hardness, moisture, formaldehyde, price, warranty and certifications. Then order a sample and test it for yourself. That's what the pros do.
Mistake #6: Refuse to read the installation instructions
It's embarrassing to even have to say it, but almost everyone, from homeowners to experienced contractors, fail to read the installation instructions thoroughly—if at all. This is a big issue because most problems can be avoided by simply reading the instructions provided by the manufacturer. While this rule applies mainly to installations, it can equally be applied to purchasing decisions. Every flooring product, from light green to dark green, has its uniqueness. Even if you've installed the same type of flooring for 20 years, if you haven't schooled yourself on this particular manufacturer's requirements, the job can result in a disaster.
The classic mistake is to assume this floor is just like the others you've installed. It's natural to assume this, but it's deadly. Not only is every floor different, but the moisture content, milling and finish are different, the subfloor conditions are different, the climate in the room is different, the expectations of the customer are different, the people and pets walking on the floor are different, the deadlines and budget are different, and so on.
TIP: Don't assume anything. Read the instructions thoroughly. Period.
Mistake #7: Forget to research daily maintenance, refinishing and disposal costs
This point is usually given little attention because few people understand it well. It requires knowledge of subfloor preparation such as: floor leveling, moisture conditions, pH levels, adhesive application and refinishing techniques—all of which are extremely complex, highly important and require professional advice. While this information may not be easy to come by, it's usually available from the manufacturer. Good installation instructions are an important indicator of the quality of the product, as they spell out every detail and don't leave anything to chance.
While modern floors have excellent long lasting finishes they still need regular maintenance. How your floor is finished will make a big difference on how it is maintained and re-finished. In the old days floors were re-sanded and refinished every 5-10 years. Modern aluminum oxide finishes, which are on most hardwood and bamboo floors, are so durable they rarely need refinishing.
Most flooring manufacturers today offer 25-year residential warranties against normal wear and tear. These finishes require only some mild cleaners on a soft cloth to remove most routine dirt. Both floating and solid wood can be re-sanded and refinished 1-3 times. Cork can also be refinished but is rarely re-sanded. Although linoleum does not have a topical finish it can be coated and recoated with specialty sealers or wax.
Category Regular Maintenance/yr. Refinish $$/SF Useful Life Disposal
Solid wood $0.50/SF/year weekly cleaning $2.50-$3.00 2-3 sandings Re-use for 50-100 yrs. Biodegradable Recycle into other wood products
Engineered wood, cork, linoleum $0.50/SF/year weekly cleaning $2.50-$3.00 1-2 sandings Re-use for 30-50 yrs. + Biodegradable Recycle into other wood products
Tile—ceramic, porcelain, stone, linoleum, recycled glass $0.50/SF/year weekly cleaning re-use for 50-100 yrs.+ Biodegradable recycle into more tile
Sheet linoleum $0.50-$0.70/SF/year weekly cleaning Refinish every 5-10 years Re-use for 30-50 yrs Biodegradable
Carpet, carpet tile $1.00/SF/year prof carpet cleaning FLOR will pick up and recycle 10 yrs. Biodegradable Recycle indefinitely
What type of finish should you use? Depending on the type of traffic in your home, after some time you may need to recoat the surface with a polyurethane finish. Most polyurethanes are oil based and contain solvents that off-gas for weeks or longer. There are some newer non-toxic polyurethanes on the market such as AFM Safecoat Polyureseal BP which do not contain solvents and do not off-gas. There are also eco-friendly carnauba and bees waxes that work well and are easier to apply but do require regular maintenance.
Obviously, it's more cost effective and environmentally smart to have a floor that lasts a long time versus one that has to be removed in 3-5 years. Strand woven bamboo, hardwood, cork and linoleum should all last 30-50 years or longer if they are properly installed, maintained and refinished periodically. Keep this in mind when choosing a floor for your kid's room or future occupants; a floor that can be refinished several times will outlive some of the less expensive alternatives that only have paper thin veneers.
TIP: Before you purchase a floor, be sure to ask the salesperson what specific products are recommended to recoat it, then double check this answer with the manufacturer. Not all finishes work with any surface. Aluminum oxide finishes are very difficult to refinish and require specialized polyurethanes that may or may not be available. Be sure to find out before you buy your flooring.
Regarding underlayment, there are many non-toxic choices for floating floors such as recycled content, latex, foam and wool. They look, feel, sound and are priced differently but they all work well to cushion a floating floor from abrasion and to span dips and bumps in an uneven floor.
Finally, if we are to consider the total life cycle of the product we must consider the disposal of the product when its useful life is over. As we have seen this varies greatly based on the type of floor, how it's used and how it's cared for. When solid wood or engineered floors wear out they can be refinished. Linoleum and cork can be refinished too. Ceramic, porcelain and stone tiles last almost forever. Linoleum is natural and biodegradable. Carpet has a much shorter life but wool is biodegradable and can be recycled too. For each of these there is a cost to us and a cost to the environment. Many manufacturers are now including these calculations in their life cycle assessments. One in particular, Interface FLOR, has finally closed the loop on their product life cycles by guaranteeing to pick up and recycle their products indefinitely rather than letting them be dumped into a landfill.
While this discussion has covered the basic principles of how to buy a green floor, there are always special considerations and circumstances that warrant unique approaches. Don't be afraid to explore some other options and don't be afraid to ask questions and test products for yourself. If you find a new product or method, let us know so others can benefit.
As always, feel free to call if we can be of further assistance.
Sincerely,

Joel Hirshberg, President
Green Building Supply
800.405.0222
www.greenbuildingsupply.com
Copyright © 2009 Joel Hirshberg All rights reserved.
Sources: from World Health Organization and others.