How long will it last?
A 500 g (17.64 oz) container of Blissfully Clean non-toxic cleaner should last about a year, depending on usage. The shelf life is indefinite, even if opened.
I don't want to waste a bit of it! How can I make my Blissfully Clean non-toxic cleaner last as long as possible?
Use scissors to cut an extra sponge into 10 smaller size sponges. Spongelets? A spongelet allows greater control of how much cleaner is collected by the sponge, so it conserves product.
In addition, a spongelet affords great 'leverage' when scrubbing a tough spot like the crevice on the inside edge of a baking pan. A spongelet makes it easier to maneuver in any tight space.
You may save money on sponges, too! It's much better to toss away a .25 cent spongelet when it gets grungy, than to throw away a $2.50 sponge.
Another economical technique when cleaning windows, a boat, an RV, etc. is to re-use the clay that settles to the bottom when you rinse your sponge. After a few hours of settling, this clay can be re-used. Obviously this technique is not meant for use in kitchens and bathrooms!Do I need to wear household gloves?
No! Your hands will love the clay. We do recommend gloves for grungy jobs like cleaning soot from fireplace glass, or when you simply want to keep your hands dry.
If a sponge gets badly soiled, what's the best way to clean it?
Generally speaking, this special sponge will 'self clean'. However, if at some point it appears irretrievable: In a glass bowl or jar, pour 1-2 cups boiling water over 1 T laundry whitener (sodium percarbonate), and be careful to not inhale the sodium percarbonate steam. Soak the sponge for a few minutes and agitate if necessary. Magically, the sponge will transform as all the gunk floats off. Awesome.
How much water should I use to wet the sponge?
Very little! Slightly dampen the sponge, wring it out well and wipe it across the cleaner enough times to collect some clay. You'll be surprised how very little water is required.
Note that the instructions on the container refer to a slightly damp sponge—not a sponge that's dripping wet.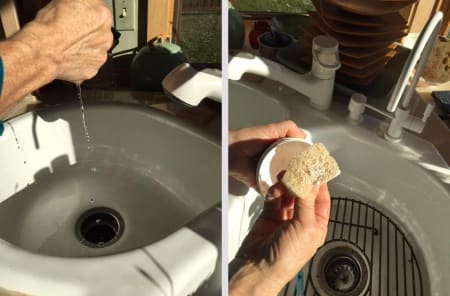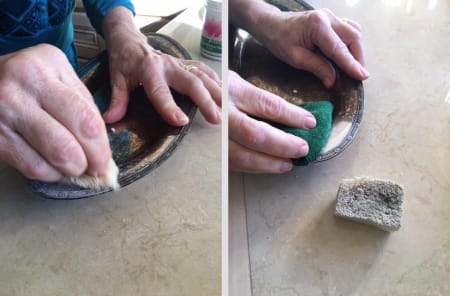 1) Thoroughly wring out the sponge so it is only a slightly damp sponge.
2) Swipe the sponge across the cleaner to collect some clay.
3) Clean the target.
4) Rinse and wipe with a dry cloth, OR, where appropriate, skip the rinse and just buff with a dry cloth (on windows or metal, for example).
How will I know if I'm using too much water?
You're using too much water if you notice any one of these:
White liquid drips or oozes from the sponge as you clean. If this happens, STOP! You're watering down the clay and wasting it, and probably getting no results. The cleaning action comes from a somewhat pasty clay. Pushing around white water is a waste of time.
The surface of the clay block begins to look shiny. It should remain dull-looking, even when it absorbs a bit of water each time you wipe the slightly damp sponge across it.
The hard clay block begins to soften or seems to need to 'dry out'.
You feel you're using a lot of product very fast. A 500 g (17.64 oz) tub should last about a year, depending on usage. Really.
After swiping the sponge across the clay block, should I squeeze the sponge to "make a foam" before using it?
No! This is an unnecessary and counterproductive step with Blissfully Clean non-toxic cleaner, as it contains no foaming agents. Trying to make a foam will dilute your cleaning effort and waste product. Let the natural clay do the work, just as Mother Nature designed.
Since Blissfully Clean is a cleaner, not a food, why did you choose to use natural and organic ingredients?
There are several reasons we specified this level of purity. On principle, we wanted to offer a cleaning product that is:
Food-safe when used on countertops, cutting boards, dishes, pans, high chairs, baby toys, cribs, etc.
Vegan
Not tested on animals
Free of petroleum products
A choice vigilant parents would be comfortable with when giving their children a cleaning task
Safe for everyone, including the chemically sensitive (MCS)
Stingy on the use of water
A conscious 'vote' in support of sustainable agriculture:

no synthetic pesticides
no genetic engineering (GMOs)
no chemical fertilizers
no degradation of the soil
no harm to bee populations
Should I put the lid back on after each use?
It's more convenient and efficient to leave the container open right near the sink so it's available at a moment's notice. The sponge can park right there in the container. If you prefer, the lid works as a handy spot to store the sponge.
If you choose to replace the lid each time, be sure the sponge and clay are dried out. Should you find the clay is either wet or damp, you're using too much water!
Will Blissfully Clean clay scratch surfaces?
Swipe your finger across the surface of the clay, and you'll know instantly that this product is safe for any surface. It feels like fine baby powder.
Blissfully Clean non-toxic cleaner doesn't just claim to be non-abrasive—it really is, as is the sponge that comes with it. I have even used this duo safely on my eyeglasses, pearls and precious antiques from my Mother. I also use it safely on my computer screen (shhh, don't tell Joel!).
Even so—as with all cleaners—'best practice' is to test a small area first. You won't be disappointed.
How would I describe Blissfully Clean non-toxic cleaner to a friend? I know it's not a liquid, foam, concentrate, paste or powder.
If your friend is from Europe, you won't need to explain a thing, as clay cleaners there have been the 'go to' cleaners for decades.
You might tell your friends here in the US that Blissfully Clean clay comes as a hard round block, with its own non-abrasive sponge. It cleans most hard-sealed surfaces efficiently and effectively, without scratching or leaving a residue.
When unscented, the Blissfully Clean clay contains only two ingredients: natural, unbleached white clay and organic soap. If you select one of the scents available, it also contains a certified organic essential oil.
When "soap" is listed as an ingredient, I always wonder what that's made of?
Wise question! In addition to synthetic chemicals, a soap can include anything from pork tallow to ox bile. I didn't make this up.
The liquid soap used in Blissfully Clean non-toxic cleaner contains: vegetal potash and certified organic olive oil. Even 30% of the potash is from organic agriculture.
Is Blissfully Clean cleaner safe for someone who suffers from multiple chemical sensitivities (MCS)?
Yes! We offer an unscented product designed especially for the chemically sensitive.
Most of our MCS customers, however, find that they can easily tolerate the subtle scents from the organic essential oils. If you're not satisfied, we offer a 30-day money-back guarantee for the purchase price of the item when it is returned to us.
Is Blissfully Clean non-toxic cleaner safe for use in homes with septic tanks?
Yes. It is biodegradable, and contains no synthetic chemicals.
You describe the bonus PerfectCLEAN cloth included with each purchase as "micro denier". Isn't this just a fancy name for "microfiber" cloth?
No! The PerfectCLEAN microdenier cloth is the only product patented with built-in antimicrobial protection. This awesome feature comes from the very design of the fiber itself—not from permeation by chemicals or other toxic compounds. It is 'green by design'! In fact, there are 300+ miles of fiber in one PerfectCLEAN 12" x 12" cloth. Miles. That's a lot of pure cleaning power at your fingertips.
In addition, the microdenier fibers naturally have an overall positive (+) electrostatic charge that is greater—and far more effective—than the electrostatic charge developed chemically in disposable dust or mop sheets.
Dirt and dust particles, bacteria and pollen, and other organic particles all have a negative (-) charge. Because of its positive (+) charge, the PerfectCLEAN cloth literally acts as thousands of tiny magnets, attracting and binding all types of particles.
When damp, the microdenier fibers also provide an enormous surface area within the cloth which increases its wicking potential. This powerful capillary action, or suction, gives the cloth incredible water absorbency.
Microdenier fiber absorbs up to eight times its weight in water, and fast. Forget spending money on wasteful paper towels. Seriously.
The PerfectCLEAN cloth traps and removes up to 99.99% of bacteria from hard surfaces. This cloth is serious; it's used in hospital cleaning routines nationwide, and it also supports a Class 10 and lower Clean Room.
PS: If you're a tailor or seamstress, or otherwise detail-oriented, you'll appreciate the cloth's fine workmanship; every PerfectCLEAN cloth is finished off with a patented infinity edge and carefully rounded corners. It lies neat and flat after washing, not curled or cinched up. This snag-free, lint-free cloth feels tremendous in your hand, doesn't look or feel cheap and lasts wash after wash.
This is a cloth you'll look forward to using! And, enjoy holding in your hand.
Can the PerfectCLEAN cloth be used effectively by itself, without cleaning agents of any kind?
Yes. Sometimes I use it with only water for wiping up, but mostly I use it dry for buffing after using Blissfully Clean non-toxic cleaner. For dusting, use the cloth barely damp and without cleaner.
I like to wash my knives immediately after use, so they're always ready to go. Because the 'best practice' for keeping knives sharp is to dry them immediately, I also keep a dry PerfectCLEAN cloth near my knife block to wipe knives perfectly dry each and every time.
Can I purchase additional sponges and PerfectCLEAN cloths?
Yes—we offer the cloths in three colors for color coding: green, yellow, and grey. My preference is to use green solely in the kitchen on the sink, counters, cabinets, appliances, etc. I use yellow solely on floors and in the bathroom, and grey for outdoor or really grungy jobs.
A complementary PerfectCLEAN cloth comes with each purchase of Blissfully Clean non-toxic cleaner. A green cloth accompanies unscented (pink lotus), a grey cloth comes with the mint (green lotus) and a yellow cloth accompanies the lemon (yellow lotus).
Click these links for additional sponges and PerfectClean cloths.
How should I wash the PerfectCLEAN cloths?
Use hot water and detergent.
If you use chlorine bleach, do not apply it undiluted directly to the cloth, as it will deteriorate the fibers.
For use on carpet, are you sure?
Yes, for spots, absolutely. If you have a wool carpet, be sure to stroke in one direction; do not rub back and forth. If your carpet is synthetic, a back and forth motion is usually fine. Always test first in a corner to be sure.
How about ceramic cooktops?
Make it a routine to clean the ceramic when it cools after each use, so you're ready to cook when the desire or demand arises.
First, remove any large debris with the tool provided by your cooktop manufacturer.
Then use a barely damp sponge or spongelet to apply Blissfully Clean non-toxic cleaner.
Wipe dry with a damp PerfectClean cloth.
Admire!
Windows, really?
Absolutely! For the last 25 years, every Spring I have cleaned 79 glass windows and doors, both sides. Believe me, I've tried everything in order for this job to be quick, easy, fun and enlightening. Yes, enlightening! More on that later, if you're interested.
I'm very picky, so smudges or streaks are NOT allowed. Not even a speck.
When I graduated from a blue liquid spray and paper towels to vinegar and newspapers, and then to a few drops of degreasing detergent in a pail with a handy squeegee, each time I was thrilled with the result — until the next day when I would invariably see glare from residue. How disappointing! I never mastered these techniques, although I tried mightily for 25 years.
Imagine my delight when testing Blissfully Clean non-toxic cleaner; I discovered that it exceeded all of my expectations. After 25 years of window washing, I finally nailed it. Who knew that clay could clean windows?
Here are some of the benefits I've found so far for window cleaning:
No spray bottles to balance while on a ladder or out on the roof
No overspray to irritate eyes, skin and lungs
No paper towels to waste
No old newspapers to stockpile
No irritating vinegar or ammonia
No homemade lemon concoctions to mix
No disappointing drips down the glass
No laundering a pile of dirty rags (because we use the efficient PerfectCLEAN cloth)
No squeegees or other contraptions to maneuver
No wasted detergent
No rinsing
No streaks or smudges
No specks
No filmy residue
No glare
No mess
No irritated skin
No wasted effort
No disappointment
Barely any water usage
Results every time:
Crystal clear glass
Predictably clean
Reliably perfect
Why don't you just hire out your window washing?
That's what my dear Mother-in-law said. I've done that, but it was very expensive, and I always had to re-do most of the windows. Plus, I missed out on the physical exercise.
The great American architect, Frank Lloyd Wright, looked at glass as an incarnation of Light. It's been said that his art glass windows and their placement were hymns to Nature. Poetic, elegant and soulful. With this as inspiration, I'd like to share some thoughts on the enlightening value of the seemingly mundane task of washing windows.
My favorite bumper sticker says, "The best things in life aren't things." Washing windows is one way to consciously manifest such non-material 'things' as clarity, purity, beauty, brilliance, flawlessness and perfection.
The Blissfully Clean window washing technique is simple, easy and almost effortless:
My preference is to use a slightly damp spongelet for both economy and fingertip control. With use of a spongelet, instead of a large sponge, I can literally 'hear' or 'feel' when I encounter a fly speck. Of course, you'll discover the right size and thickness of sponge for your hand and preferences.
Wipe the slightly damp sponge or spongelet across the cleaner enough times to collect some clay.
Apply it to the glass in easy circular motions.
When you encounter a 'ping' from a bug spot, immediately give that spot the attention it deserves. Gone!
When one side of the entire window is white with haze — but not yet dried — use a dry PerfectCLEAN lint-free cloth (provided with each purchase) to easily buff off that drying haze; if you still see haze, you've missed a spot.
If the haze is difficult to remove, it means it has dried too quickly. Simply work smaller sections of glass at a time.
Complete the inside and outside of one window at a time. Inspect it. If you see haze, you've missed a spot. Buff that spot with a dry PerfectClean cloth, then move on to the next window.
Change out your PerfectCLEAN cloth as needed. Or simply 'shake out' the dust from the dried clay and keep on going.
Bask in the delight of perfectly clean windows—clear and shimmering.
Admire your work – even when the sun shines the next day.
Make a mental note of how clarity, purity, beauty, brilliance, flawlessness and perfection have just manifested right before your eyes. If you see a haze, you've missed a spot! Just buff it out with a dry PerfectClean cloth.
I especially appreciate that there's no residue left on the glass to attract dirt and dust. Windows stay clean much longer.
How will this cleaner work for large jobs like boats, RVs, floors or walls?
Blissfully Clean non-toxic cleaner is great on boats and RVs, but use a large-size sponge, or it takes forever. It's fantastic for streaks and smudges on both floors and walls. For overall cleaning of floors we recommend Bona, Woodwise or plain water. AFM Superclean does a good job on the overall cleaning of walls.
Blissfully Clean non-toxic cleaner is also available in a 5 K (13 lb) container for large jobs and institutional or commercial use. Cleaning services love this product.
Copyright © 2017 Joy Hirshberg All rights reserved.