Easy to love. Hard to damage.
Introducing Kahrs Life: a new collection of sustainable, affordable hardwood flooring that meets the aesthetic and performance requirements of both residential and commercial buildings. Like all Kahrs products, it is eco-friendly and meets and exceeds the US and European environmental safety standards (FloorScore certified) for indoor air quality.
Kahrs Life offers a new line of wood flooring with exceptional durability and authentic modern design with properties better than luxury vinyl tile (LVT). It features a highly select grade of oak and walnut that comes in 10 shades. A real wood veneer is applied over a next generation HDF core that is highly impact resistant and can handle just about any punishing foot traffic. Kahrs Life is very stable and will handle fluctuations in temperature and humidity and is suited for radiant heated subfloors.
The surface of each plank is treated with an innovative UV-cured acrylic matt lacquer that protects the floor, making it dirt resistant, easy to clean while maintaining the natural and beautiful wood feeling. It also provides outstanding scratch resistance and water resistant properties, so there are fewer worries about everyday traffic and spills.
Kahrs Life products are tough enough to satisfy the specifications for a class 31 use, which in Europe means, a medium commercial use for hotel rooms, conference areas, offices, villas, apartments, as well as high traffic residences that involve large families with kids and pets.
Like all Kahrs hardwood engineered floors, they are fast and easy to install with a 5G Drop and Lock joint system. These DIY floors are ideal for renovations as they can be installed directly over most existing subfloors and even over vinyl, laminate or ceramic tile. (refer to installation guidelines for complete instructions).
Water Resistant
This flooring will withstand water spills on the surface. This means you do not have to worry if you spill water or leave a wet towel on the floor for up to 24 hours. It does not mean you can install it at the bottom of your pool, or expect it to hold up during a flood - only porcelain tile can do that - but for typical spills you clean up after, it should be fine. Read this informational article to learn more about water resistance vs. waterproof.
Dimensions: 5-7/8" wide x 71-1/4" long x 1/4" (7mm) thick, 35.069 sf/box
100% Wood Construction
1st layer - Real Hardwood veneer with improved finish that is water resistant, highly scratch resistant, impact resistant, and non-yellowing
2nd layer - Densified HDF Wood Core - more durable then your typical HDF, with 5G Click Lock joint
3rd layer - Bottom - Real Wood backing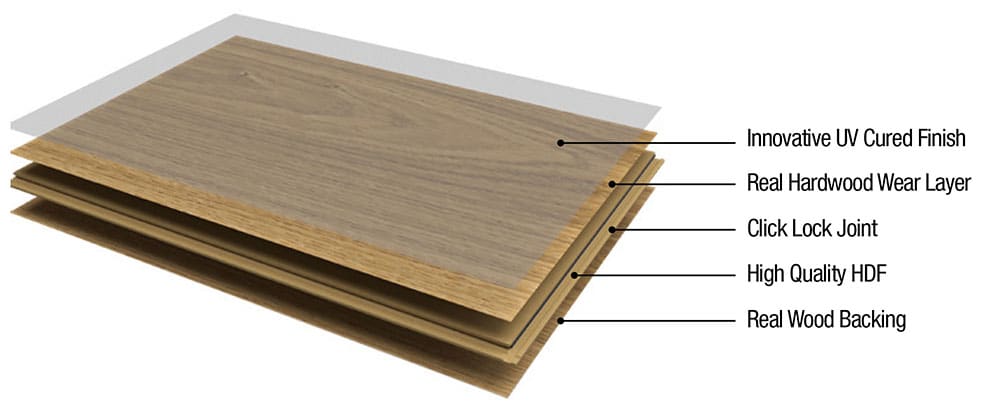 This item description was written by Joel Hirshberg
Why We Like It
The wide-plank select-grade oak or walnut appearance together with the extra durability and moisture resistance makes this collection as good or better than any of their higher-end products. In fact, this is Kahrs only collection that carries a water resistance guarantee (see warranty for more details.) That makes it ideal for medium commercial applications or busy homes where budget and durability are big concerns. While the thin real wood veneer cannot be sanded, Kahrs has made the surface so tough it will likely never need sanding.
Features & benefits
Engineered to be perfect — three-layer patented construction gives excellent dimensional stability in all climates
Safe, non-toxic — no added formaldehyde or harmful emissions; healthy for you and your family, complies with CARB2 and E1 emission standards, FloorScore third party certified learn how to test a non-toxic product for tolerance
Improved water resistance — Stands up to common household spills for up to 24-hours
Unique beauty — Select grade of natural oak and walnut plus 8 other shades in a matte finish
Upscale design — Wide plank look in beautiful colors
Durable — commercial grade uv-cured designed with high impact, scratch and water resistance
Easy to install — DIY 5G Drop and Lock joint system snaps together without glue or nails below, at or above grade. Installs in half the time and expense traditional floors and without the dust or odors.
Sustainably harvested — sourced from certified forests whose owners demonstrate social, economic and environmental responsibility and stewardship
Warranted — 15-year residential warranty, 5-year commercial including water resistance guarantee. See warranty for details.
Designed for radiant heated floors — very stable; will not gap, buckle or warp over any floor with hydronic or electric radiant heat
Rated with ISO — the only floor with a ISO 9001, 9002, 14001 and 14002 rating
Alert:
State Nexus Fee may apply
A state nexus fee will be applied to this item if drop shipped to the following states: . We're sorry for the inconvenience. Click here to read more about the state nexus fee.
Specs
Dimensions
Coverage (1 Coat)
Coverage2
Recommended # of Coats
Re-coat After

Drying Time
Square Feet / Box

35.069

Square Feet
Thickness or Height

0.25

"
Thickness
mm
Veneer Cut Thickness
Length

71.25

"
Length
mm
Width

5.875

"
Width
mm
Boxes / Pallet

54

Boxes
Square Feet / Pallet

1893.75

Square Feet
Boards / Box
Boards
Pieces / Box
Pieces
Weight / Box

45.9

Pounds
Basics
Interior or Exterior

Interior

Use On Material

Use On
Location

All Rooms

Eco-replacement for

Traditionally-Harvested or Exotic Hardwood Flooring

Chemically-sensitive safe

Yes

learn how to test a non-toxic product for tolerance
Test before use

Yes

, test on inconspicuous area
Freeze/Thaw Safe?
Warranty
Warranties
Residential Finish Wear

15 Years

Residential Structural
Commercial Finish Wear

5 Years

Commercial Structural

5 Years
Certifications
Forest Stewardship Council (FSC)

FSC Content
FSC Chain-of-Custody #
LEED® Qualifications

LEED® Regional Materials Zip Code
Certifications

FloorScore
Features
Minimum Order
Old Name
Material Origin

Country of Manufacture

Poland

Recycled Content
Shelf Life

Use With These Products
Number of Colors
Colors
Carpet Pattern
Coordinating Border
Critical Radiant Flux
Extractable Matter
Face or Pile Weight
Fiber
General Flammability
Surface Flammability
GSA Classification
Line
Machine Guage
Moth Resistance
Pattern Repeat
Pile Height (High)
Pile Height (Low)
Primary Backing
Resistance to Insect Pests
Roll Length
'
Secondary Backing
Smoke Density
Static
Stitches Per Inch
Surface Texture, Construction, Style
Total Height
Total Weight
Traffic Rating
Tufts per Sq. In.
Tufts / Sq In
Yarn Construction
Bundles per Pallet
Bundles
Bundles per Square 6" Exposure
Bundles
Bundles per Square 7" Exposure
Bundles
Bundles per Square 7-1/2" Exposure
Bundles
Bundles per Square 8" Exposure
Bundles
Pounds per Bundle
Pounds
Pounds per Pallet
Pounds
Pounds per Roll
Pounds
Pounds per Square
Pounds
Pounds per Square 6" Exposure
Pounds
Pounds per Square 7" Exposure
Pounds
Pounds per Square 7-1/2" Exposure
Pounds
Pounds per Square 8" Exposure
Pounds
Lin Feet per Bundle
Lin Feet
Lin Feet per Pallet
Lin Feet
Rolls per Pallet
Rolls
Squares per Roll
Squares
Tiles per bundle
Tiles
Tiles per Lin Foot
Tiles
Finish Type

Base

Ingredients

VOC Content
Grams/Liter
Application Method

Application Temperature Range
Application Instructions
Surface or Product Preparation
Appearance When Dry
Cleans Up With

Storage

Recycling or Disposal

Adhesive
Bamboo Construction

Bathroom Installation
Color Change

Stained product, little color change over time.

Construction

Engineered

Construction Description
Durability

Edge

Micro-Beveled

Finish
Finish Sheen

Matte

Finish Contains Aluminum Oxide?
Floor Item Type

Flooring

Floor Pattern
Floor Type

Hardwood

Grade Installation

On, Above, Below

Grading

Calm

Installation

Click, Floating, Glue-Down

Janka Hardness Rating
Joint System

Woodloc 5G: Glueless Self-Locking 'Click' System

Knots

Material

Number of Plys

-Plys
Composition
Radiant Heat

Okay for use with electric or hydronic radiant heat ; see manufacturer instructions for details

Range of Resistance
Risk in Dry Climates

Style

Contemporary

Shade (1 Light) - (7 Dark)

Strips / Plank

1

-Strips/Plank
Surface Texture

Surface Treatment

Stained

Surface Treatment Color
Tile Application

Touch Up Kit
Can be indoor?
Can be outdoor?
Direct Vent?
Easy-Linkable?
Energy Factor
Max Gallons Per Minute
- GPM
Max BTU's / Hour
- BTU's / Hour
Multi Control Capabilities
Temperature Range (with remote)
Life
Hrs
Input Wattage
W
Delivered Lumens
lm
Efficacy
lm/W
Color Temperature
K
Color Rendering Index (CRI)
Equivalent Wattage
W
Energy Savings