Catskill: Natural, Organically Dyed, Non-Toxic, Zero VOC, 100% Wool Area Rug
Earth Weave's new Catskill Collection is a non-toxic, super-soft, luxurious cut pile all wool area rug displayed in a breathtaking array of light and dark earthtone colors. It's available in 4'x6', 6'x9', 8'x10' and 10'x12'. Unlike nylon, polypropylene or Olefin carpet, all of Earth Weave's carpets and area rugs are made without any hazardous ingredients: no toxic dyes or moth protection, no chemical stain protection, no synthetic latex adhesives (styrene butadiene) or formaldehyde in the backing and no synthetic anything. Just 100% pure virgin wool from Europe with a primary backing made from natural hemp and cotton, bound to the yarn with all-natural rubber. The secondary backing is made of jute. This is the only Zero VOC carpet and is completely safe for everyone, including those with chemical sensitivities.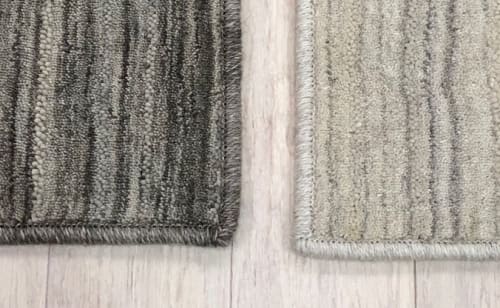 Earth Weave Area Rugs are serged along the edges with thread from the most dominant color in the particular pattern you select.
NOTE: Lead times: wall to wall is 3-4 weeks, area rugs is 4-6 weeks. Lead times can vary by product for these custom-made items. If you would like a more accurate time frame please call 800.405.0222 for further details.
What makes this rug special is the color and how it's made. Because wool is a protein, it does not take dye easily unless you use strong harsh toxic chemicals to infuse it. Earth Weave has developed a unique system for coloring wool with an organic dye process called OrganoSoftColor™that uses only safe ingredients. The result is no off-gassing of harmful chemicals and a gorgeous soft carpet that will last for generations.
Earth Weave is a carpet mill that makes all of its own Bio-floor carpet in the USA. They were the first carpet manufacturer to use only natural materials such as industrial hemp and natural latex, all of which are 100% biodegradable. Unlike most carpet manufacturers that use toxic dyes, moth-proofing and stain protection, Earth Weave uses nothing synthetic in the face yarns, backing or adhesive.
Earth Weave also offers a natural rubber pad for their rugs and all-natural wool padding for their carpet. NOTE: Area rugs are not returnable. Please view samples first.
NOTE ON NON-TOXIC CARPET CLEANER : We don't sell it, but are super excited about the capabilities of Host. See the pdf download Cleaning Tips for more information.
This item description was written by Joel Hirshberg
Why We Like It
Earth Weave has already raised the bar with their completely natural and non-toxic carpets, but now they have outdone themselves and forged new ground in the carpet industry with their organic colors. For those who love purity and natural fibers, you'll love this carpet. If you have chemical sensitivities, we highly recommend this carpet. If you're tired of synthetic, toxic and smelling carpets, you won't have to worry with any of the Earth Weave carpets or rugs. They're as pure as you can get. Same for their pad. This series is in the upper middle price range. Once you touch it and see it, you'll know it doesn't get any better. As always, we recommend testing this product for your own personal tolerance levels.
Features & benefits
All-natural — made with 100% wool, industrial hemp, cotton, natural rubber latex and jute
Non-toxic — zero VOC; no formaldehyde, insect repellents, mildewcides, fungicides, toxic dyes or PBDEs (flame retardants); safe for everyone, including the chemically sensitive; learn how to test a non-toxic product for tolerance
Durable, cleanable — outlasts and outperforms nylon, polypropylene and olefin
Improves indoor air quality — purifies the air by capturing air contaminants, allergens and dust
Eco-friendly — completely renewable resource and 100% biodegradable
OrganoSoftColor™ dyes — organic dyes containing no toxic chemicals
Fire-resistant — resists fire naturally without chemicals; used on military jets, submarines, boats, etc.
Thermal and acoustical insulator — naturally insulates and absorbs sound
LEED qualified — MR Credit 4.1, 4.2: Recycled content, 5.1, 5.2: Regional Materials, 6: Rapidly renewable materials, EQ 4.3: Low-emitting materials
Rug gripper — natural latex rubber padding keeps rug from sliding
Sizes — Available in 4'x6', 6'x9', 8'x10' and 10'x12'. NOTE: since area rugs are custom made, they are not returnable.
Alert: Yarn lot variances occur in natural fiber rugs; therefore, actual merchandise is not guaranteed to match these samples. Because natural fiber carpets vary in texture and color, slight variances in texture and color are normal and do not constitute a manufacturing defect. As with all quality natural-fiber carpets, vacuuming with a suction-only vacuum cleaner is recommended. Beater-bar vacuum cleaners may damage the surface pile of this product. Proper vacuuming on a regular basis will increase performance. Use only wool-approved cleaners for removing stains. Do not vigorously rub the affected area. Lightly blot area instead. If stain persists, contact a professional cleaner, and be sure they use cleaners designed for wool and natural fibers.
State Nexus Fee may apply
A state nexus fee will be applied to this item if drop shipped to the following states: . We're sorry for the inconvenience. Click here to read more about the state nexus fee.
Specs
Dimensions
Coverage (1 Coat)
Coverage2
Recommended # of Coats
Re-coat After

Drying Time
Square Feet / Box
Square Feet
Thickness or Height
"
Thickness
mm
Veneer Cut Thickness
Length

72" | 96" | 108" | 120" | 144

"
Length
mm
Width

48" | 60" | 72" | 96" | 120

"
Width
mm
Boxes / Pallet
Boxes
Square Feet / Pallet
Square Feet
Boards / Box
Boards
Pieces / Box
Pieces
Weight / Box
Pounds
Basics
Interior or Exterior

Interior

Use On Material

Use On
Location

All Rooms: Dry

Eco-replacement for

Synthetic Carpet

Chemically-sensitive safe

Yes

learn how to test a non-toxic product for tolerance
Test before use

Yes

, test on inconspicuous area
Freeze/Thaw Safe?
Warranty
Warranties

5 Years

Residential Finish Wear
Residential Structural

5 Years

Commercial Finish Wear
Commercial Structural
Certifications
Forest Stewardship Council (FSC)

FSC Content
FSC Chain-of-Custody #
LEED® Qualifications

Indoor Environmental Quality/4.3 Low-Emitting Materials/Flooring Systems: 1 point, Indoor Environmental Quality/5 Indoor Chemical and Pollutant Source Control: 1 point, Materials & Resources/4 Recycled Content: 1 to 2 points, Materials & Resources/6 Rapidly Renewable Materials: 1 point

LEED® Regional Materials Zip Code
Certifications
Features
Minimum Order
Old Name
Material Origin

United Kingdom

Country of Manufacture

United States

Recycled Content
Shelf Life

Use With These Products
Number of Colors

6

Colors
Carpet Pattern
Coordinating Border
Critical Radiant Flux
Extractable Matter
Face or Pile Weight

65 oz

Fiber

100% Wool

General Flammability

Meets or Exceeds Methenamine Pill Test

Surface Flammability
GSA Classification
Line
Machine Guage
Moth Resistance
Pattern Repeat
Pile Height (High)
Pile Height (Low)
Primary Backing

Hemp/Cotton

Resistance to Insect Pests
Roll Length
'
Secondary Backing

Jute

Smoke Density
Static
Stitches Per Inch
Surface Texture, Construction, Style

Cut Pile

Total Height
Total Weight
Traffic Rating
Tufts per Sq. In.
Tufts / Sq In
Yarn Construction
Bundles per Pallet
Bundles
Bundles per Square 6" Exposure
Bundles
Bundles per Square 7" Exposure
Bundles
Bundles per Square 7-1/2" Exposure
Bundles
Bundles per Square 8" Exposure
Bundles
Pounds per Bundle
Pounds
Pounds per Pallet
Pounds
Pounds per Roll
Pounds
Pounds per Square
Pounds
Pounds per Square 6" Exposure
Pounds
Pounds per Square 7" Exposure
Pounds
Pounds per Square 7-1/2" Exposure
Pounds
Pounds per Square 8" Exposure
Pounds
Lin Feet per Bundle
Lin Feet
Lin Feet per Pallet
Lin Feet
Rolls per Pallet
Rolls
Squares per Roll
Squares
Tiles per bundle
Tiles
Tiles per Lin Foot
Tiles
Finish Type

Base

Ingredients

wool

VOC Content
Grams/Liter
Application Method

Application Temperature Range
Application Instructions
Surface or Product Preparation
Appearance When Dry
Cleans Up With

Storage

Recycling or Disposal

Adhesive
Bamboo Construction

Bathroom Installation
Color Change
Construction

Construction Description
Durability

Edge

Finish
Finish Sheen

Finish Contains Aluminum Oxide?
Floor Item Type

Flooring

Floor Pattern
Floor Type

Carpet

Grade Installation

Grading

Installation

Loose Lay

Janka Hardness Rating
Joint System
Knots

Material

Wool

Number of Plys

-Plys
Composition
Radiant Heat

Range of Resistance
Risk in Dry Climates

Style

Shade (1 Light) - (7 Dark)

Strips / Plank

-Strips/Plank
Surface Texture

Surface Treatment

Surface Treatment Color
Tile Application

Touch Up Kit
Can be indoor?
Can be outdoor?
Direct Vent?
Easy-Linkable?
Energy Factor
Max Gallons Per Minute
- GPM
Max BTU's / Hour
- BTU's / Hour
Multi Control Capabilities
Temperature Range (with remote)
Life
Hrs
Input Wattage
W
Delivered Lumens
lm
Efficacy
lm/W
Color Temperature
K
Color Rendering Index (CRI)
Equivalent Wattage
W
Energy Savings