Dirt and stain repellant, and sealer for toxins
AFM Safecoat Comprehensive Carpet Shampoo & Sealing System is specifically formulated to reduce and encapsulate harsh or dangerous chemicals found in carpet fibers and backings. These chemicals include known carcinogens such as: formaldehyde, toluene, benzene, xylene and styrene. This system is odor-free and, when properly applied, effectively blocks out-gassing for up to five cleanings or one year.
AFM Comprehensive 3-part Carpet Shampoo & Sealing System can be ordered as a kit or individually, but only the shampoo should be used by itself. The carpet shampoo is a concentrate that covers about 2000-4500 sf, depending on dilution, while the other two parts (carpet seal and lock out) cover about 300 square feet each, depending on carpet type and method of application.
SafeChoice Carpet Shampoo – Also highly effective when used individually as a carpet shampoo. When applying the sealing system, it's important to use this particular non-toxic shampoo for effective results. It thoroughly cleans fibers of dirt, and it removes toxic insect and dirt repellents.


SafeChoice Carpet Seal – A unique sealer designed to prevent the out-gassing of chemical carcinogens used in carpet backing such as formaldehyde, toluene, benzene, xylene and styrene. Also resists water stains. (Formerly called SafeChoice Carpet Guard)


SafeChoice Lock Out – Performs two functions: first, seals in the off-gassing of harmful chemicals found in carpet fibers, and second, helps repel dirt and stains. This is the only product of its kind in the world.
NOTE1: This system is generally suitable for all synthetic carpets and rugs; it is not recommended for wool as this product is water-based. Because of variations in materials and production processes used by different manufacturers, always spot test first. Application may require two coats.
NOTE2: All three products need to be used together to create the desired results. Using just one or two of the three will not be sufficient. Please call us at 800.405.0222 if you have further questions regarding the use of this product
NOTE3: Do not dilute the Carpet Seal or the Lock Out. Use full strength. Only shampoo can be diluted.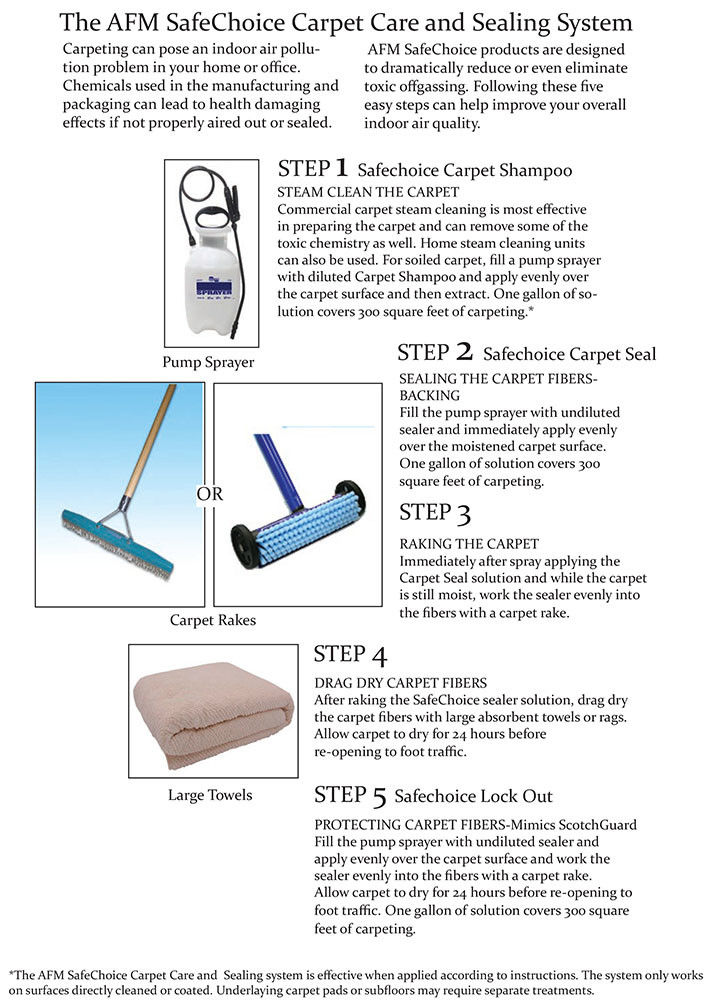 This item description was written by Joel Hirshberg
Why We Like It
In addition to our own test, we've heard from hundreds of our customers that this system works and has saved them lots of money. Depending upon the type and intensity of odor and your sensitivity to it, a second coat may be required. We haven't found anything on the market that will block carpet odors as effectively as this product.
Features & benefits
Easy-to-use – DIY; save hundreds of dollars by not having to replace your carpet with a new one
Powerful and safe – thoroughly cleans and removes odors without irritating hands or skin
Safe – for everyone, including the chemically sensitive*
Non-toxic – contains no phosphates, ammonia, butyl ethers, alcohols, phosphates, caustics or acids; non-corrosive and non-flammable
Alert: Always spot test first. Not recommended for wool carpet. Do not dilute.
State Nexus Fee may apply
A state nexus fee will be applied to this item if drop shipped to the following states: . We're sorry for the inconvenience. Click here to read more about the state nexus fee.
Specs
Warranty
Warranties
Residential Finish Wear
Residential Structural
Commercial Finish Wear
Commercial Structural
Certifications
Forest Stewardship Council (FSC)

FSC Content
FSC Chain-of-Custody #
LEED® Qualifications

LEED® Regional Materials Zip Code
Certifications

SCS Gold
Basics
Interior or Exterior

Interior

Use On Material

Carpet: All Except Wool

Use On
Location

All Rooms

Eco-replacement for

Carpet Care, Carpet Cleaner, Sealers

Chemically-sensitive safe

Yes

learn how to test a non-toxic product for tolerance
Test before use

Yes

, test on inconspicuous area
Freeze/Thaw Safe?

No
Dimensions
Coverage (1 Coat)

1-Gallon Carpet Seal/Lock Out = 300 SF - medium-light weave carpet. 1-Gallon Carpet Shampoo = 2000-4500 SF, depending on dilution.

Coverage2
Square Feet / Box
Square Feet
Thickness or Height
"
Thickness
mm
Veneer Cut Thickness
Length
"
Length
mm
Width
"
Width
mm
Boxes / Pallet
Boxes
Square Feet / Pallet
Square Feet
Boards / Box
Boards
Pieces / Box
Pieces
Weight / Box
Pounds
Features
Minimum Order
Old Name
Material Origin

United States

Country of Manufacture

United States

Recycled Content
Shelf Life

Use With These Prodcuts
Number of Colors
Colors
Carpet Pattern
Coordinating Border
Critical Radiant Flux
Extractable Matter
Face or Pile Weight
Fiber
General Flammability
Surface Flammability
GSA Classification
Line
Machine Guage
Moth Resistance
Pattern Repeat
Pile Height (High)
Pile Height (Low)
Primary Backing
Resistance to Insect Pests
Roll Length
'
Secondary Backing
Smoke Density
Static

[Error processing dynamic tag getCurrentAttribute('item','custitemstatic') : record kit 1264 not found]

Stitches Per Inch
Surface Texture, Construction, Style
Total Height
Total Weight
Traffic Rating
Tufts per Sq. In.
Tufts / Sq In
Yarn Construction
Bundles per Pallet
Bundles
Bundles per Square 6" Exposure
Bundles
Bundles per Square 7" Exposure
Bundles
Bundles per Square 7-1/2" Exposure
Bundles
Bundles per Square 8" Exposure
Bundles
Pounds per Bundle
Pounds
Pounds per Pallet
Pounds
Pounds per Roll
Pounds
Pounds per Square
Pounds
Pounds per Square 6" Exposure
Pounds
Pounds per Square 7" Exposure
Pounds
Pounds per Square 7-1/2" Exposure
Pounds
Pounds per Square 8" Exposure
Pounds
Lin Feet per Bundle
Lin Feet
Lin Feet per Pallet
Lin Feet
Rolls per Pallet
Rolls
Squares per Roll
Squares
Tiles per bundle
Tiles
Tiles per Lin Foot
Tiles
Finish Type

Sealer

Base

Water-based

Ingredients

download Material Safety Data Sheet (MSDS)

VOC Content

0

Grams/Liter
Use On Material - Condition

Carpet: All Except Wool

Application Method

brush, garage broom, polishing machine, pump sprayer, rotary brush

Application Temperature Range

warmer than 55 ° f

Application Instructions

see pdf

Surface or Product Preperation

Surface should be clean, dry and free of oil and wax

Recommended # of Coats

1

Re-coat After

as needed

Drying Time

4-6 hours

Appearance When Dry

clear

Cleans Up With

Water

Storage

Store in cool dry place out of sunlight

Recycling or Disposal

Dispose of excess product in accordance with all local state and federal regulations, Do not throw out container unless completely empty. Pour contents onto dry cardboard and let thoroughly dry outdoors. May also be absorbed with cat litter sand or other dry materials

Adhesive
Bamboo Construction

Bathroom Installation
Color Change
Construction

Construction Description
Durability

Edge

Finish
Finish Sheen

Finish Contains Aluminum Oxide?
Floor Item Type
Floor Pattern
Floor Type

Grade Installation

Grading

Installation

Janka Hardness Rating
Joint System
Knots

Material

Number of Plys

-Plys
Composition
Radiant Heat

Range of Resistance
Risk in Dry Climates

Style

Shade (1 Light) - (7 Dark)

Strips / Plank

-Strips/Plank
Surface Texture

Surface Treatment

Surface Treatment Color
Tile Application

Touch Up Kit
Can be indoor?
Can be outdoor?
Direct Vent?
Easy-Linkable?
Energy Factor
Max Gallons Per Minute
- GPM
Max BTU's / Hour
- BTU's / Hour
Multi Control Capabilities
Temperature Range (with remote)
Life
Hrs
Input Wattage
W
Delivered Lumens
lm
Efficacy
lm/W
Color Temperature
K
Color Rendering Index (CRI)
Equivalent Wattage
W
Energy Savings